Fashionable Street-Wear Clothing
Have you ever been on your way to the gym and received a phone call that would change your plan? I had to turn around and run home to change. If you had some gear on from Size Up Apparel, you wouldn't have to turn around to change. Size Up Apparel offers fashionable workout gear that can be worn to the gym or a night on the town. I enjoy the comfort of the short sleeve hoody and tri-stretch black cargo pants. The pants did run on the smaller size so keep in mind you might have to order a size up. Maybe that's why they call themselves a Size up. My daughter really enjoyed the women's beige fitted jogger and zip up. She loved the fitted cut and quality of the fabric and is hoping they come out with more colors of their fashionable street-wear clothing
Size Up Apparel, Providing the best workout clothes for men and women.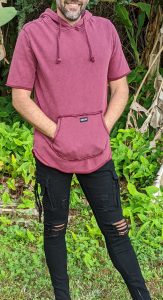 Size Up Maroon Acid Warm-Up Hoodie | Men's Training Jackets
Short sleeves, with a drawstring hood. Front pocket with two side openings. Relaxed fit. Great for warm-up session at the gym
Size Up Black Henley | Men's Casual Shirt
black in color with a short slit scoop bottom. Breathable with a solid slim fit.
Size Up Tri-Stretch Charcoal Denim Joggers
Trendy and Casual form-fitting, distressed, yet relaxed looking pants. Multi-pocket design. Stretchy material makes it comfortable to wear and very stylish.
Size Up Women's Beige Fitted Zip Up
Body-hugging with a full-length zipper and a zip-up side pocket
Size Up Women's Beige Fitted Joggers
Beige. Fitted with a calf zipper
For those gentlemen looking to stay up with the times by wearing trendy yet practical clothing, "Size Up" is a perfect choice. Finding the right attire can be overwhelming so we aim to find great brands for you to consider. "Size Up" creates trendy attire using lightweight and breathable clothing, making for a cool and soft material that is very comfortable and flexible. These styles are perfect for going about your daily chores looking great or to that after-work gathering; you can even go to the gym and workout. Check out Size Up's fashionable street-wear clothing for your next purchase, once you put these clothes on you will understand when I say these clothes are very comfortable and practicable.