Seasonal booze, kombucha cocktails, and the world's smartest keyring are a few of the gifts for men that make The Aspiring Gentleman holiday season gift guide.
We felt it our duty to sample the goods and only recommend the best gifts for him. Plenty of products were received, tried, and tested, and ultimately were given away in my first come first serve text messaging and Whatsapp friends and family group. The stuff you see here made the cut and are drinks and other gifts we kept for the Aspiring Gentleman team.
Healthy Gifts For Men
Brew Dr. Kombucha from Portland, OR, bottles their own fermented tea that make for one of the best Christmas present ideas for health-conscious men.
Kombucha – or "the booch" to its fans – is made from green, black or white tea. It's fermented for at least a week with sugar and a fungal culture consisting of a mixture of bacteria and yeast. The starter is called a "SCOBY," which is an acronym for "symbiotic colony of bacteria and yeast." – Margie King, Health Coach
This particular brand produces 100 percent raw, Non-GMO and USDA Certified Organic kombucha. It's ideal for men into fitness because it provides them with an alternative type of cocktail with a base of 0-35 calories per serving. Brew Dr. Kombucha does not have any added flavors, preservatives, juices, or anything like artificial sweeteners following the fermentation process.
Our favorite cocktail recipe involves the Brew Dr. Kombucha Flavor: Mango Habanero
The Door Hinge
1.5oz Townshend's Gin
.5oz Townshend's Bluebird Alpine Liqueur
.5oz honey syrup (2:1)
.25oz Cointreau
1oz Brew Dr. Kombucha Mango Habanero
Recipe:
Shake everything besides the kombucha, then add the Mango Habanero and swirl. Strain into a
coupe and garnish with a lemon peel.
For more on Brew Dr. Kombucha take a gander at www.BrewDrKombucha.com.
It is Hard to Find a Cocktail with Scotch
Highland Park Magnus is a deliciously tasty single malt scotch that comes in at a seriously reasonable price of $40 per bottle. That is pretty good for any single malt scotch, but especially so for this particular Highland Park scotch. When you have your guests over and 1 or 2 do not like the good old scotch on the rocks or with a splash of water, you can offer them this tasty cocktail:
Viking Gold
1.5 oz

Highland

Park

Magnus
.5 oz cinnamon-infused maple syrup
.5 oz lemon
Bar spoon apple butter
Shake and strain over fresh ice
Garnish with apple slices and cinnamon stick
Japanese Whisky Would Be Quite the Unique Surprise
If you have never had Japanese Whisky, which I must admit, until last week I never had, it is definitely a drink you need to try. The Suntory Whisky Toki is a unique blend of carefully selected whiskies from the House of Suntory's globally acclaimed Hakushu, Yamazaki, and Chita distilleries, and has a very unique taste to it. I wondered it if would taste like bourbon, a scotch, or an Irish whiskey, but surprisingly, it had a taste all its own. If you are a fan of the slightly sweeter-tasting whiskeys, this is the drink for you.
Great New Irish Whiskey
Bushmills Irish Whiskey has recently introduced their newest blend – Bushmills Red Bush. To my great delight, it is the perfect drink for both the bourbon enthusiast and those that are new to the Irish whiskey category. Bushmills Red Bush is made at "The Old Bushmills Distillery", Ireland's oldest working distillery and is aged exclusively in American bourbon barrels. My preference is for Red Bush to be served straight up or on the rocks and with a price point under $24.00, your man will not be disappointed.
Curated Jerky Boxes
People's Choice Beef Jerky specializes in curated jerky boxes that we have tried and determined will make for an excellent gift for men. We like that each box comes loaded with handcrafted, artisan jerky. The People's Choice Beef Jerky stems from a family tradition of over 87 years and 4 generations. Sure, that term is often used to describe just about everything but when you take a look at the flavors and the texture and look of it you will understand why this deserves the artisan label. It looks nothing like convenience store jerky which is a good thing.
The boxes are uniquely customize from Heat Lovers, to Health Nuts, and even those that have a Sweet Tooth. It's an all-in-one gift, packaged and ready to go for those that want to choose something easy.
The Classic Gift For Men
The Top Ranked Bordeaux Wine That Beats All First Growth $1,500-$3,000 Wine For Under $250

Bordeaux wine is no longer just for the elite. During a blind tasting in 2012, the $250 Chateau Gaby outscored Bordeaux First Growth wines like Chateau Lafite, Petrvs, and others that go for $1,500 to $3,000 per bottle. What happened to all of the Chateau Gaby 2008 vintage? A London buyer bought and sold all 3,500 bottles in 24 hours.
The 2012 vintage is only recently available in The United States (currently only Florida and New York) because of Boston-native billionaire Tom Sullivan. Tom is a Bordeaux wine pioneer as one of the first foreigners outside of the Chinese who has bought Bordeaux estates. Tom kept winemaker and general manager Damien Lanouar on board to manage the day-to-day operations of the three historic estates he bought in 2016.
Tom's involvement means top quality and affordable prices for the once unobtainable quality Bordeaux wines. The Chateau Gaby wine is aged in 55% new, French, oak barrels for between 12 and 18 months on the 16-hectare vineyards full of limestone soils. The wine itself is a blend of 80% Merlot, 10% Cabernet Franc and 10% Cabernet Sauvignon from vines averaging 25 years of age.
The Wine That Screams Italian Classic
The Santa Margherita 2013 Chianti Classico is just an absolutely delicious vintage from Santa Margherita, and for under $30 for a bottle, you cannot go wrong here. I have personally enjoyed this specific vintage, which has a sort of acidic medium with a nice mix of earthiness and fruit. If Chiantis are a regular in your wine rack, you probably should add this along with them.

Wine For Film Nerds

The Turner Classic Movies Wine Club has taken the wine club to a different level by curating wine inspired by classic movies. This wine gift for men is a more clever gift for a movie lover. We personally tested the Orson Welles pictures below during a Halloween BYOB wine celebration and it was a big hit at the get-together beside the rest of the typical uninspiring wines.
Rose For The Holidays
Hailing from Côtes de Provence, France, is a bottle of 2015 vintage Rose made from all estate-grown grapes. VieVité is a dry Rose described as
With a beautiful translucent pink hue, VieVité exudes the colors of a true Côtes de Provence rosé wine. On the nose, an expression of ripe tropical fruit is balanced with a pleasant bouquet of white flowers and a discreet touch of spice. On the palate, well-structured fruit and balanced acidity creates a crisp and delicate finish.
As the holiday season fast approaches that can mean one thing – wine! VieVité should absolutely be a part of the Thanksgiving dinner table or underneath the Christmas tree for to wake up to with your significant other. This gift for men is one you can enjoy because rose from the Côtes de Provence is characteristically dry wines and contain less sugar than many others produced around the world.
"The powers of a man's mind are directly proportional to the quantity of coffee he drank." — Sir James MacKintosh
The Keurig® K-Select™ Coffee Maker is no brainier when it comes to the ideal gift for men. Just in time for the holiday gifting season, it's the first classic Keurig brewer to include a "Strong" button. The strong button kicks up your coffee's strength and intensity, so you can enjoy a bolder brew. Just like the typical Keurig brewer, The K-Select has coffee ready within seconds so it's perfect for any grab and go lifestyle.
We also really enjoy the fingerprint-resistant matte exterior with a more intuitive interface to help any man brew his ideal cup of coffee.
We do suggest pairing the Keurig® K-Select™ Coffee Maker with the strongest K-Cup pod® coffee to take advantage of the machine's best feature. The REVV® Coffee K-Cup pods®. Besides the Aspiring Gentleman team, Dallas Cowboys quarterback Dak Prescott gifted his teammates this new brewer and REVV® to kick off the season on the right foot.
Creative Gifts For Men
New Generation Acousitic Guitars and Ukelele's from Orangewood Guitars
There's a reason the Beatles didn't give us "The White Album" when they were teenagers according to Malcolm Gladwell's 10,000-hour theory.
"Based on research suggesting that practice is the essence of genius, best-selling author Malcolm Gladwell popularized the idea that 10,000 hours of appropriately guided practice was "the magic number of greatness," regardless of a person's natural aptitude. With enough practice, he claimed in his book Outliers, anyone could achieve a level of proficiency that would rival that of a professional. It was just a matter of putting in the time." – Malcolm Gladwell
We also imagine that few people decide one day that they want to learn how to play an instrument. Even if they do, what are the chances that person will spend hundreds of dollars on an instrument with the possibility that it might gather spider webs in the closet after the first day.
A better idea is to gift a musical instrument like these select guitars and ukuleles available from Orangewood. All guitars are designed and inspected in Orange, California with prices below $200.
Austen: A dreadnought body style guitar with a solid spruce top and mahogany back priced at $199.00
Manhattan: A dreadnought body style guitar with a spruce top and mahogany back priced at $129.00
Oliver: A grad concert body style guitar with a solid cedar top and mahogany back priced at $199.00
Victoria: A grad concert body style guitar with a spruce top and mahogany back priced at $129.00
Zuma: A soprano body style ukulele with a Sapele Mahogany top and back priced at $89.99
The Writer in your life
Azio is dedicated to providing innovative tech gear to make everyday life more engaging and fun. I think they hit the nail on the head with the Azio Retro Classic Keyboard. If you are like me, you like the sound of a keyboard, and the unique sound of a typewriter sounds just that much better. You get that with this keyboard as well as the feel of typing on a mechanical keyboard. It feels like you are typing intentionally. Any writer will appreciate this at first type.
Turn Your Smartphone into aSound System
Vibes Audio has produced the first-ever personal speaker for your iPhone 6 – 8 and Galaxy S7/8 that uses vibration sound engine technology to produce the crispest sound you can get from a Bluetooth speaker. The best part is that this thing is waterproof for up to 30 minutes at depths of 1 meter or less. This sucker even comes with a 3000 mAH battery pack to keep your phone charges all day long. I don't think you can find a system like this anywhere else.
For the Speed Junkies or RC Lover
This DRL Nikko Air drone is brought to you by the Drone Racing League (DRL) and made for speed junkies, drone heads and tech lovers, the DRL Nikko Air Race Vision 220 FPV Pro ($139.99) is the ultimate toy-quadcopter developed by drone pilots, designed for future pilots. The model drones include 5.8GHz frequency, an FPV (First Person View) screen, and goggles while delivering real-time video display (without delay or lag) via a 130-degree adjustable camera, so your new favorite pilots can zoom through a truly immersive race experience. Plus, the elite DRL Nikko Air racing drone includes multiple modes and speeds, beta-flight software, and the opportunity to train like the pros using the DRL Simulator.
The Budding Amateur Photographer
The Spider Holster from SpiderLight is a gift for men who have made it past the beginning stages of their photography hobby and want to take it more seriously. Or for professionals too. We are referring to this camera holster system designed for DSLR, mirrorless, and lightweight pro cameras. It works by attaching slipping the Spider Holster on a belt and attaching the Spider Plate to the camera. It's something practical for shooting in any environment without needing to put it back in the camera bag between each series of shots. Rather, you can reach it quickly to take photographs during the moments you least anticipate. It is built with an all-metal, ergonomic design that adjusts for different styles of camera bodies and grip configurations.

Practical Gifts For Men
The Smartest Key Holder
The KeySmart Pro with Tile™ Smart Location is changing the way men organize their lives. This key holder comes with embedded Bluetooth tracking technology, an LED light, and a rechargeable battery. The KeySmart plays a tune so he can find the keys even faster when they're really lost. He uses Tile™ to locate them on a map.
On the other hand, if his phone goes missing, he can just hit a button on the KeySmart Pro and the phone will ring, even if it's on silent. Compare the to hands below for an idea of how it really looks.
Augmented Reality Technology To Find Your Stuff
Although it may seem similar to the smart key holder mentioned above, the Pixie makes a great gift option for men that can't seem to keep tabs on their keys, remotes, and valuables.
The way it works is by attaching Pixie Point tags items that are easily misplaced. The user only has to launch the Pixie app on his iOS device, scan the room with his phone and Pixie will magically lead him to the exact location of the item with its advanced augmented reality technology.
What we like most about the Pixie is its feature that helps men find what they have tagged with the Pixie. Whether it's a suitcase or keys, the Pixie makes it possible to find whatever is lost – even through walls, pillows and drawers.
Wearable Calming Device For Men
We recently heard about the TOUCHPOINTS™ wearable devices that use BLAST (Bi-Lateral Alternating Stimulation-Tactile) technology to help to reduce stress. Invented by neuroscientist Dr. Amy Serin, this is intended as a new way to create calm, sleep, and day-to-day anxiety. While we love our whiskey, tequila, rum, and over-liquors, this device is better than a shot or two which would likely be good only for just the evening. The TOUCHPOINTS™ works with an app and has six settings or the new, basic model has three settings and does not require an app. You can visit www.thetouchpointsolution.com to judge whether you believe it can work or not. It's too early to tell for us but we still want to mention this wearable device.
Cinch Lock for Cyclists
OTTOLOCK was designed by OTTO DesignWorks as a "go-anywhere cinch lock". What makes this something special for men who commute on a bike is the comfort provided knowing his bike won't be going anywhere he doesn't know about. The cut resident lock provides extra security using a patent-pending, multi-layer steel, and Kevlar® band design. Bike nerds will geek out when they read more about this underappreciated cycling accessory.
Transform Your Closet
Former Spartan football star Justin Kershaw has launched a campaign to change the way people hang their clothes and organize their closets. Kershaw designed and developed the
Hanga
(HONG-uh). This clothes hanger made from galvanized steel in Columbus, OH, ensures your clothes will never fall off the hanger. It is designed to easily slide garments off without taking the
Hanga
off the rod or stretching the collar of the shirt.
"As an entrepreneur, it's exciting to design and develop products that are practical, useful and still unique," Kershaw said. "I'm a big guy, so hangers have always stretched out my clothes and left dreadful shoulder marks. The design of this hanger will allow you to hang everything from sweaters and coats to the most elegant dresses without worry of pulling or ruining the garment."
Gifts For Men Under The Sheets
All-in-one luxury bedding
Pillow Guу
is а nеw men's bedding lіnе that ѕіmрlіfies thе wау mеn that men buу their bеddіng. The аll-іn-оnе luxurу bеddіng bundles are sold without gimmicks, no weird fabrics, no heavy metals, and no meaningless thread count numbers. They instead created a sleep science questionnaire to determine each man's specific needs and desires. The end result is a custom bedding package.
How to Get Some of The Best ZZZs
All pillows are not built the same. The Sleep Number PlushComfort Ultimate Pillow is a unique gift for men. This Sleep Number pillow's comes with three removable inserts for individualized support and adjustable pillow height as sleep needs change over time. The generic pillows at the local big part store are not worth buying when there is a pillow for under $50 that will last as your sleep habits change. The versatility of the down-alternative pillow makes it possible for men to use this whether they are stomach, back, or side sleepers.
A Gift For Men To Relax
Hammocks Hold A Special Place In Our Hearts
The Superior Hammock | The Ultimate Sleep Syste raised more than $42,000+ for a reason on Kickstarter. The Hammock's weight is only 4 ounces and still supports up to 300lbs. See more on their campaign page. It's created with a silk-like nylon fabric that works well enough to keep you warm with 800 Fill premium down. This solves the "Cold Butt Syndrome" so many of us experience when trying to sleep in hammocks. Consider sleeping on this cloud of a hammock in temperatures as low as 30 degrees.

Gifts For Men To Prepare For The Winter
How Have You Not Heard of Coast Apparel Yet?
We recently became fans of Coast Apparel after trying their men's collection. Not all of what they have designed fit our style, but this shirt stands out as the Waterfront Flannel Button Down. Flannel is a go-to choice for the fall weather and it's no longer just a fad. It should be a key ingredient for a young professional man's wardrobe. Although many are still resistant to flannel, Coast Apparel's Waterfront Flannel button-down is akin to wearing pajamas. It's just that soft. Really. There are more great gift ideas on whattogetmy.
Hip Clothing Line Designed for Comfort and Fashion
Started in a Venice Beach, CA garage back in 2006, Aviator Nation is a 70's inspired California lifestyle brand that is designed to look great the first day you put it on and just look better as it develops that worn look over the years. The 5 Stripe Hoodie is possibly one of the best hoodies I have ever owned and has one of the best fits. Don't forget to consider this for one of those unexpected gifts that your man will really appreciate.
Tekkima's Navigator Waxed Cotton Field Coat
Tekkima is a new menswear brand that recently hit the scene with a coat collection that is functional, durable, and stylish depending on your style. We have had the chance to try out their wax
cotton
field
coat
called the Navigator. It's made of 100%
Cotton
Waxed
Twill. That means this coat is so water-resistant and made to stand up to whatever is thrown at it. It's ideal for a city man who also spends a lot of time outdoors.
The roomy pockets, a two-way front zipper, attached hood, and waist cinch are some of the technical features of this coat that retails for $185.
The Jacket Made For Frequent Travelers
An Aspiring Gentleman should
travel
often. We do. Just alone this year we have visited Colombia, Canada, Morocco, Poland, France, Italy, Germany, Thailand, and a few more countries with unpredictable climates. We recently acquired the
BauBax Travel Bomber Jacket
from
TheGrommet.com
. It's fashionable enough to wear but the practicality of it is what pushes it over the edge for us to recommend.
Fifteen travel essentials are built into the bomber-style design (like an eye mask and neck pillow), and there are designated pockets for your phone, tablet, blanket, and more. All that functionality is stealthily integrated too.
Chocolate Is Not Just Gifts For Her; Chocolate Is Really A Gift For Him
National Chocolate Day falls on October 28th. Yet, imagine if we never discovered chocolate? What would the world look like? How would we cope without chocolate in our life?
Chocolate Historian Dave Borghesani provides insights in partnership with American Heritage Chocolate on how cacao beans were used as a form of currency dating back to the Aztec Empire, Christopher Columbus discovered America AND chocolate, bringing cacao beans back to the Spanish court in the early 1500s, George Washington drank "chocolate cream" at breakfast, Benjamin Franklin sold chocolate in his print shop, and chocolate has traditionally been included in military provisions throughout history. Chocolate has been a part of the fabric of American lives for over 300 years and after tasting American Heritage® chocolate I think it is a gift for him to explore its uses in baking, drinking, and eating too.
Boozy Gifts For Men
Rum is often a forgotten spirit
The Rums Revenge aims to educate and change that perception. Rums Revenge is offering Molasses and Agricole rum from all over the Americas and Caribbean, including Grenada, Barbados, Trinidad, Martinique, Reunion, Guatemala, Nicaragua, Belize, Guyana, and Jamaica too.
Classic Scotch Whiskey
Classic Scotch Whiskey
We have written about whiskey and scotch since we started Aspiring Gentleman back in 09′. There are a few bottles we recently acquired that we are pleased to drink. Make sure you remember how to store scotch correctly so you can keep your bottles for as long as you need.
The Syndicate 58/6 is a high-end blend of different whiskies with the older stock. This process has been come to be known as the "Solera" system and it has been perfected all the way in the United Kingdom to enjoy in America. The original 1956 blend is combined with 18 single malts and four other single grain whiskeys. The more you research about this unique bottle you will find yourself down the rabbit hole starting with the fact that the original blend was found in Port of Leith, Edinburgh, Scotland in the 1950s. It's a worthy bottle to purchase as a gift for a man with more sophisticated knowledge. The man new to whiskey is less likely to appreciate the Syndicate 58/6.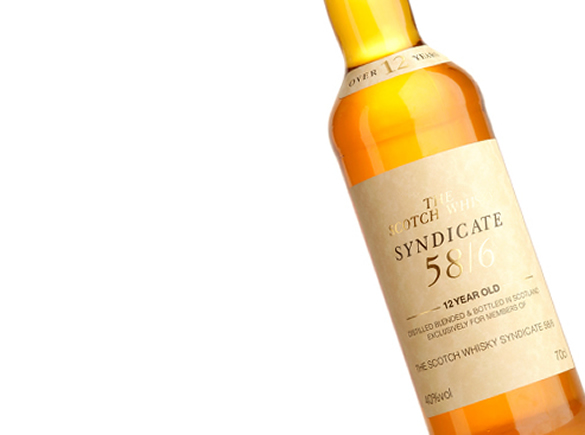 The Ardbeg Ten Years Old Islay single malt scotch whiskey's under $60 price tag is a steal for this quality single malt hailing from Scotland. The non chill-filtered scotch whiskey is an award winning bottle from its Whiskey Bible "World Whiskey of the Year" title to its Whiskey Advocate Magazine "Best Single Malt Scotch Whiskeys Under $100". This is meant for the man who drink's his coffee black and liquor straight. It's known as a more peaty and smoky blend.
Grain To Glass
Mississippi River Distilling Company (MRDC) offers a variety of whiskeys crafted by trained master distillers native to Iowa using grains sourced from within 25 miles of the distillery. Our favorites are the Cody Road Whiskey named after William "Buffalo Bill" Cody from Le Claire, Iowa. This Old West legend had fought in the civil war, traveled solo on the Pony Express by age 14, and started the Wild West show known throughout the world in the 1800's.
Brothers Ryan and Garrett Burchett opened Mississippi River Distilling in 2010, capitalizing on their hometown's proximity to not only land, but also river.
https://youtu.be/jU6OpSo8LWs
Hardy Hailing from Cognac, France
Hardy Legend 1863 Cognac has been aged for up to 12 years in Limousin oak barrels at the prestigious hardy family estate. This particular Hardy brandy is a pleasure to sip or create a variety of cocktails for Thanksgiving and Christmas festivities. The bronze colored cognac has a variety of notes certain men may notice from vanilla to cappuccino.
Cognac is a variety of brandy named after the town of Cognac, France. It is produced in the surrounding wine-growing region in the departments of Charente and Charente-Maritime
The Often Under Appreciated Irish Whiskey
This still family run distillery was started by Walter Teeling way back in 1782, and still carries on the same traditions of distilling premium Irish whiskey today. The Teeling Irish Whiskeys carry the signature of Jack Teeling along with details of the casks used and when bottled reinforcing the hand crafted nature. The Small Batch, Single Grain, and Single malt, pictured below, are no different, and for a price ranging from $30 – $60, you can't go wrong.
A Bourbon to Remember
The Woodford Reserve Master's Collection Cherry Wood Smoked Barley is one of the first Kentucky Bourbons to use malted barley that's been exposed to cherry wood smoke. When your man opens this gift he won't be able to wait to share it with his closest buddies over a nice cigar or during a friendly game of poker.
Vodka Is Always A necessity For Anyone's Liquor Cabinet
Straight from the country of 1,000 lakes, Nemiroff Vodka is likely the best Vodka from Ukraine. This Is definitely a premium Vodka at a non premium price, and when you have won over 60 awards in the last 10 years, I think you can call yourself premium. The Nemiroff original is filtered 11 times for the finest Vodka taste. Don't forget to add this to your list if alcohol is on your list!
Pair it with the best ginger beer for a Moscow Mule, and you have a recipe for a great time.
Nobody Can Leave Out Tequila
Tequila is only worth drinking if it is made from 100% agave. Milagro Silver tequila is one such tequila that has won awards at the San Francisco World Spirits Competition and The Spirits of Mexico Competition. The bright clear color, agave-forward and citrus notes of the nose, and spicy black pepper finish are some of the characteristics of this bottle represented by National Milagro Ambassador, Jaime Salas.
A Cult Favorite Rum: Flor de Caña from Nicaragua
An economical but solid rum is the Flor de Caña Gran Reserva. I have bee drinking this rum over the years and will continue to do so on the rocks or as a cocktail. The "Monster Mulled Wine with Rum and Apple Brandy" from Flor de Caña Ambassador Ashela Richardson is one gift to make him for the holiday season by following Ashela's recipe.
Ingredients:
3 parts red wine

1 part Flor de Caña 7

¼ part Apple Brandy

¼ part local honey

¼ part fresh squeezed orange juice

Apple slices

Cinnamon stick

Star anise

Clove

Orange peel

Method:

Warm all of the ingredients on the stovetop

Serve:

mug

Garnish:

spices and orange peel
By Allison Webber Photography
It's my pleasure to invite you to a wine dinner showcasing offerings from three Bordeaux Right Bank estates: Chateau Gaby, Chateau du Parc, and Chateau Moya. The event will be hosted by estate owner, Tom Sullivan, and estate manager, Damien Landouar, at Delano South Beach on Friday, November 10 at 7pm.
Beer From Goose Island
Bourbon County Brand Stout represents the origins of barrel-aged beer and Goose Island continues to be a pioneer in brewing with this year's special line-up of barrel-aged beer including:
Bourbon County Brand Northwoods Stout: Brewed in 5 to 7-year-old bourbon barrels, this beer combines flavors of blueberry and almond. The addition of almond extract lends a marzipan-like fruity character.
Bourbon County Reserve Brand Stout: With notes of charred oak, vanilla, caramel, and smoke, and added depth contributed by 11-year-old Knob Creek Bourbon barrels, this release is ideal for whiskey lovers as it celebrates Goose Island's original collaboration with Knob Creek.
Seasonal Spirits Can Make Useful Gifts For Him
Pumpkin pie brought us pumpkin spice lattes which have now brought us Baileys Pumpkin Spice. This liquor is a gift for her or him–but really a gift for you. We tried the Caramel Apple cocktail from Baileys Pumpkin Spice and it will most likely end up in your hands after gifting this bottle. What you see below is made with Baileys Pumpkin Spice, Dickel Rye, apple cider, and topped with apple cider doughnut holes and caramel apple slices.
Caramel Apple
Created by NYC mixologist, Allison Kave of Butter & Scotch
Ingredients:
2 oz Baileys Pumpkin Spice

1 oz Dickel Rye

1 cup apple cider

Apple Cider Doughnut Holes for Garnish

Caramel Apple Slices for Garnish

Whipped Cream for Garnish

Caramel Drizzle for Garnish
Preparation:
In a saucepan, combine Baileys Pumpkin Spice, Dickel Rye and apple cider over medium heat for ten minutes. Stir well.

Pour contents into a coffee mug.

Top with skewer of apple cider doughnut holes alternating with caramel apple slices. Garnish with whipped cream and caramel drizzle.
Intelligently Funny Apparel For Him
Headline has just about anything you could want when it comes to humor and booze for your apparel needs. The best part is, there are great clothes for men, women, and children, and with t-shirts that are $24 or less, you will not break the bank for this high quality apparel. I think my favorite products on the site are the sweet socks they have.
A Caribbean Holiday Built for Men
Aruba is like a commercial except it's one of the more accessible gifts for men compared to jumping through the TV screen. It lies just three hours from Fort Lauderdale on a budget airline like Jet Blue. It does not matter what time of year you visit because it's most likely going to be sunny. More so than any other Caribbean country. Stand-up paddle boarding in clear waters, 18-holes at a Robert Trent Jones Jr. designer golf course, scuba diving, and catamaran sailing are a few activities.
It's not only just about what Arubans can do for you. They are a deeply proud people often tracing their heritage back to Caquetio Indian, African and European roots. Talk to some Arubans, share a Palmera rum punch together, and let them tell you all about their wild Carnaval.
Once you have had enough Palmera, well-known resorts like the oceanfront Aruba Marriott Resort & Stellaris Casino are ready to welcome you as if it's your second home. Its best feature is the H2Oasis adults-only pool with cabanas and a pool bar. Dining is up to you. Eat at the familiar Ruth's Chris Steak House or try some new seafood dishes at Atardi prepared by Chef Romeo Pacino.
The Eye In The Sky
Be the eye in the sky with the World Tech Toys Venom Pro GPS Streaming HD Camera 2.4GHz 4.5CH RC Drone, available on HobbyTron.com, the largest online drone retailer! The Venom Pro is sure to entertain all, whether you are a beginner or a seasoned veteran at flying drones. Make quick movements and soar through the sky with a 720p HD video camera that can record video and take pictures with the Venom FPV smartphone app. And use the follow me function to have the drone autonomously hover near the smartphone with the Venom FPV app active.
Thanks to all of the brands who provided their product in exchange for an honest review. We did not include all products sent to us but only the very best. All opinions expressed are our own.