Any foodie knows just how well the right wine pairing can compliment their dinner. This is especially true when it comes to cheese, but really any meal can be wonderfully enhanced by the right drink.
Well, it's the exact same thing when it comes to cigars. And for cigars, only one drink will do whiskey.
If you're someone who enjoys a good smoke and you haven't tried pairing this with a glass of whiskey, then you're only getting half the experience, even. And once you've tried this combination, you're not going to want to go back! This is a drink for gentlemen and – like wine – it is a drink that can take a while to learn and understand. A true man's man will know their whiskeys and their cigars and being able to make educated comments on them and recommend the best combinations… well, that's a surefire way to impress everyone from business partners to friends, to future Fathers-in-law.
That said, this isn't just an experience for men. Anyone can enjoy combining whiskey and cigars, so whoever you are: read on and learn more about this winning formula, and just what the best way to enjoy these two together really is.
Note: We'll be focussing on bourbon, in particular, especially the 1792 brand. If you want to skip straight to the pairings to learn what goes best with the different products from this label, then head down to the bottom of the page and click the links. You'll find pricing information, tips, and a whole lot more.
Your choice of tipple is about to get a whole lot classier!
Why Cigars and Whiskey Work
The first question is, what is it about cigars and whiskey that go so well in the first place?
There are a few things. On the face of it, both of these are strong flavors that are highly warming. A cigar will warm your mouth, while a whiskey creates a deep warmth in the stomach. Standing on a balcony or a roof bar and enjoying the two together is a great way to beat the elements and to feel cradled in a warm glow.
At the same time, both whiskey and cigars are designed to be enjoyed slowly. You can smoke a cigar for hours if you have the time, and likewise, you are never meant to gulp whiskey. Both are crafted with a lot of care, attention, and, and both deserve your time and appreciation.
Likewise, both these activities are esteemed. These are things you do to celebrate an important occasion. Both involve a lot of paraphernalia and the longer you take to enjoy their worlds, the more you will appreciate them both.
We all remember our first whiskey. And we likewise all remember our first cigar. Maybe you enjoyed a cigar with a colleague or boss to celebrate a deal with a client. Or perhaps you tried your first cigar with your Father when he decided you were old enough to have a few hairs on your chest (though do not make the common mistake of thinking these are male pastimes!). Similarly, whiskey is the kind of drink you offer to someone that you are welcoming to your family, or that you give as a wedding gift.
Both whiskey and cigars can come in a variety of flavors and blends. The precise experience is going to vary depending on the two you match together then, and of course, some go better than others. But when hearing the flavors of each described, you'll find a lot of the same terminology used: they are spicy, they are oaky, they are smoky.
And so it is no surprise that they compliment each other well: bringing out the subtleties while at the same time, taking the 'edge off'. It works for the same reason that dark chocolate and intense coffee work so well – they are both bitter, and thus they make each other taste that much sweeter.
Introducing: 1792
To really get this pairing right and to really appreciate the delicious taste and the enjoyable experience, you need to make sure you get the right whiskey, and you need to ensure you get the right cigar.
We'll start with the whiskey. And in particular, we will be looking at the 1792 Bourbon – formerly Ridgewood Reserve 1792 and 1792 Ridgemont Reserve. This is a bourbon brand just like Jack Daniels – but it is one that carries with it a little more prestige and importance. It comes from Bardstown, Kentucky and is owned by the Barton 1792 Distillery, part of the Sazerac Company. It is part of a line of several 'small batch' bourbons, which are aimed at the higher end market (though not all 1792 whiskeys are small batch).
To classify as a Bourbon, a whiskey must come from the US and 95% comes from Kentucky. Ideally, you really want it to come from Kentucky. As you can see, the 1792 is steeped in the rich heritage of the region, making it all the more authentic and high quality. What's more, is that the drink bears the label 'Bottled in Bond', meaning that it meets strict standards set by the 1897 act. The company has won countless awards and accolades and is well known for its general quality.
What makes this whiskey so prestigious and such a refined treat?
1792 is perhaps best known for its lines of small-batch whiskey; this means that the drink is created by mixing the contents of a small number of selected barrels. There aren't strict criteria for what the terms specifically refers to, but generally, it means that the drink has been made from just a few barrels instead of a single barrel or thousands of barrels (the latter is the case in a drink like Jim Beam – usually a more mainstream bourbon). As a rule, small-batch whiskey tends to be higher-end.
1792 is 93.7 US proof, AKA 46.85% alcohol per volume (though again, other products from the brand do alter the strength). This makes it a very strong drink, that is ideal for enjoying in smaller quantities – a drink to sip!
The name of the bourbon has nothing to do with the year the drink was first introduced. Instead, this is a reference to the year that Kentucky was first considered a state.
What It's Like
Depending on the product you choose, the precise nature of 1792 Bourbon is going to vary slightly. You will find that the Single Barrel is significantly different from the Small Batch for instance (in fact, Single Barrel can even differ quite a lot within that product line owing to its nature!).
That said, the classic Small Batch is the staple, and a lot of the other whiskeys from 1792 will follow the template to some degree. So for those that haven't tried it yet, what should you expect?
To look at, this is a whiskey that has an intense caramel color. It looks rich and lively and is very inviting. If you give it a swirl, you'll see tendrils stretch around the glass. This is a thick and somewhat sweet drink then.
In terms of the flavors you're going to get: this is a fairly tannic and peppery drink, with a woody profile. You might notice a slight hint of maple in the taste too.
But remember: taste and particularly in regard to pairings is very much about the aromas. The nose on this drink then is a much sweeter experience and is rich with orange and spices (which is a clue as to the high rye content). You might also catch hints of that woodiness.
This helps to explain that delicious pairing. The woodiness helps to really compliment the cigar, while the sweetness will nicely contrast and cut through any dryness.
You'll also notice from this drink an oaky finish which sits long on the tong. It's drying and warm and coat the tongue.
How to Enjoy Whiskey and Cigars
So how do you go about pairing the right cigar and the right whiskey? How do you go about enjoying each to its fullest?
In terms of pairings, there are a few different things to consider.
For one, you should consider the length of the experience. These two luxuries work best together, and so you ideally want a longer drink for a longer cigar. Say you were to choose a cigar with a longer smoking time, such as the Ramon Allones Specially Selected. In this case, you might select a whiskey that can be enjoyed in larger quantities, such as the Redbeast.
Of course, there's also the small matter of the taste – both the flavor itself and the strength of that flavor. As a rule, the aim is for whiskey and cigars that complement each other and are roughly 'equally matched'. In other words, you don't want to pair an incredibly strong whiskey with a mild cigar – or the cigar will be eaten alive! Try to make sure that this is an equal partnership, with both sides of the equation coming through equally.
So, if you were perhaps to choose a Romeo Y Julieta Petit Julietas (the cigar smoked by none other than Churchill himself), then you may want to pair that with something like the Bruichladdich. The Bruichladdich has many layers of flavor that are subtle and mild. The Petit Julietas is also a very mild flavor, and as such, the two will complement each other very nicely.
Of course, you may find that it takes a while before you can learn the subtle art of pairing whiskey and cigars. If you are new to both, then you should expect this to take time.
But what you can always do is to look for an exciting cigar or whiskey you want to smoke/drink, and then go from there by looking for ideas. Just do a quick Google search and look for 'best whiskey to pair with X cigar' or 'best cigar to pair with X whiskey'. This will give you the thread you need to pull, and you'll have lots of great combinations to try out with a friend. Just make sure it's a good friend who deserves your fine cigars and high-end liquor!
Tip: Why not go the extra mile? You don't need to stop at whiskey and cigars, you can also throw food pairings into the mix, and some of these can get quite creative. For instance, sticking a piece of bacon into a bourbon whiskey can be surprisingly delicious, and it's also a great conversation starter. You can thank Tim Ferriss for that one!
Tip 2: Or if you want to be really adventurous, then you can try adding other drinks. I mentioned dark chocolate and coffee before, but you might be surprised to learn that coffee and cigars also go very nicely! Why not finish up the experience with a nice cup of Joe? Other popular options are craft beer and soda. Experiment and it will help to inform your palette, thereby helping you to make better choices and find better drinking and smoking experiences!
Bourbon vs Scotch for Cigars
One easy tip that you should have no problem committing to memory though is that bourbon is almost always superior to scotch when it comes to pairing with whiskey. You may prefer scotch, and there are the odd instances of scotch working very well with cigars, but for the most part, it's always going to be bourbon that comes out on top.
Bourbon fits the tone and the feel of a cigar for starters. It's brewed in the USA (ideally in Kentucky), and it's 51% corn. It has a dry, earthy tone to it and it feels like you're a part of the Wild West. It is somehow abrasive and harsh, but also sweet and intriguing.
But perhaps the most important distinction is that Bourbon needs to be aged in a new, charred oak barrel to count as real bourbon. Once it has been used once, that barrel is sent off for recycling – or perhaps to be used in some other part of the world. But that genuine 100% USA whiskey will always come from a fresh new barrel.
This is why you'll find that a 15-year-old bourbon looks significantly darker than a scotch. It's also the reason that bourbon has a much richer and bolder flavor (scotch is more generously described as 'smooth').
Now, of course, Scotch is the 'original' whiskey, and it is legendary in its own right. Scotch must be made in Scotland, it needs to be 80 proof, and it must be made from barley with no other added substances (except coloring). All scotch must be aged in oak casks for at least three years.
Now, many people will tell you that Scotch is the ideal whiskey to pair. In fact, this is vehemently argued by many people. It is the 'original' after all, and many people find that this makes it somehow more classy.
But the wild-West appeal of the Bourbon and the cigar won't disappear. And not only that but those new barrels give a smoky feel that feels like the perfect match for a good cigar. The more inventive spices and flavors likewise give you many more flavor combinations to go with your new-fangled cigars. It's classic, while at the same time giving you lots of amazing new things to try.
Do yourself a favor and just try it!
Some Great Pairings for 1792
We've talked about the 1792 and so that's what we're going to be focussing on here. This is a fantastic bourbon label that is made to an exceedingly high quality. It's been around a long time, it's authentic, and its great flavors and aromas are the perfect match for those cigars.
This is a great starting point, and from there, you can try out any of these pairings – try out the different whiskeys from the company and try them with these ideal cigar combos. Or click on the link to be taken to the page for more details.
Oliva Serie V Melanio W/ 1792 High Rye
This is a limited release cigar that is a 'sequel' of sorts to the Oliva Aos Serie V. It's a cigar made from an Ecuadorian-grown Sumatra leaf. It is dark, thick and oily and it has notes of leather and coffee (also one to try with a mug of brew then!). It perfectly compliments the spicy, yet sweet complexity of the 1792 High Rye.
My Father Le Bijou 1922 W/ 1792 Small Batch
This is a medium to full strength cigar from Nicaragua that once again works perfectly with 1792 Small Batch. You should really notice the vanilla and caramel coming through during this combination, and the cigar itself is a peppery and full-bodied experience. This is an elegant and sophisticated combination, ideal for a special evening.
Padron 50th Anniversary Limited Edition W/ 1792 Single Barrel
To go with a 1792 Single Barrel, the Padron is one of the best-known names in the entire cigar industry and with good reason. This 50th Anniversary Limited Edition is a fitting homage to the company's fame and prestige, and it is clear that a lot of thought and planning has gone into its sweet and tangy flavor. It has notes of maple syrup and orange citrus, which perfectly match the sweetness that can be found in any glass of 1792.
Fuente Fuente Opus X Lost City W/ 1792 Full Proof
For the 1792 Full Proof, we have for you the Fuente Fuente Opus X Lost City. It's a romantic and thought-provoking title for a smoke, and the Lost City lives up to those notions. It is made with tobacco grown on the Fuente estate (hence the name), which must be aged for five years before production. It has an oily wrapper and Dominican filler which gives a rich and creamy smoke with earthy, cedar flavors and aromas.
This is a strong tasting cigar, and that makes it the perfect choice to go with the powerful 1792 Full proof.
Drew Estate Liga Privada Unicos Feral Flying Pig W/ 1792 Port Finish
As the name 'flying pig' might lead you to anticipate, this is a highly original and unique cigar – both in terms of its flavor and in terms of its shape. It is very similar to the Liga Privada No 9 and T-52, but this time blended with part Ligero leaf to provide that extra punch. It is a peppery smoking experience, with molasses and a bitter dark chocolate. It goes perfectly with the 1792 Port Finish, which is packed with dark, ripe fruits and candied-apple and vanilla.
Daniel Marshall Red Label W/ 1792 Sweet Wheat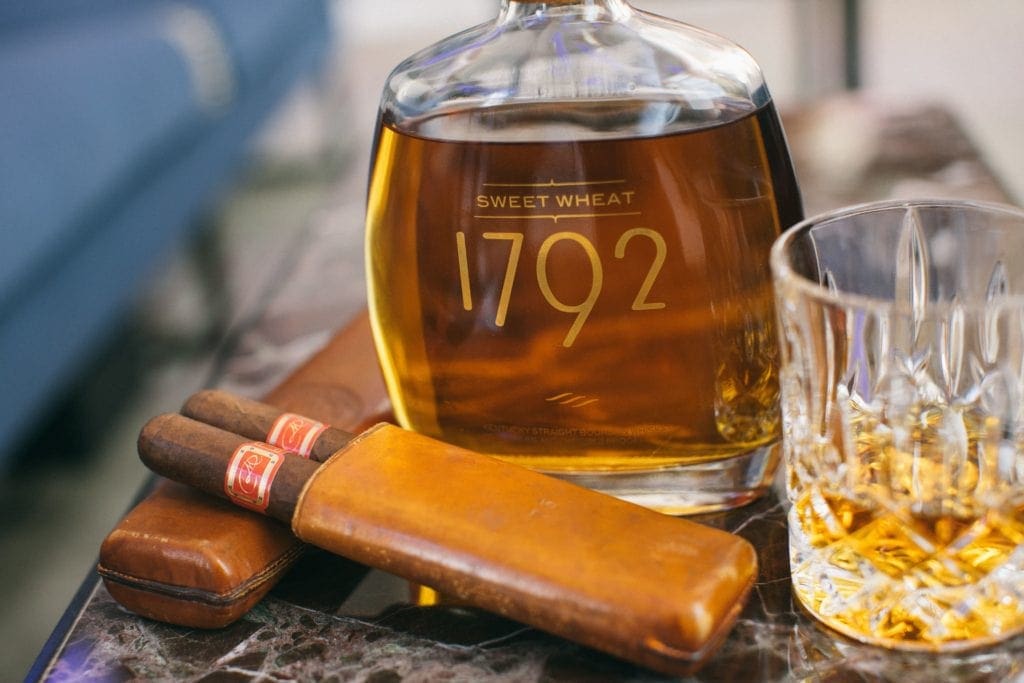 Daniel Marshall Red Label is a Nicaraguan 'super-premium'. This is fine smoking in all of its glory, and that includes everything from the Nicaraguan Habano wrapper to the earthy core (with notes of sweetness and espresso).
This is a very bold and inviting combination that is ideal when paired with a glass of 1792 Sweet Wheat. As this one is crafted with wheat instead of rye, it is somewhat different from the others on this list and marks more of a contrasting flavor.
Closing Comments
Hopefully, this post has inspired you to consider combining whiskey and cigars to get the very most from each. I hope you're already picturing sitting in a leather armchair, sipping on a cold whiskey and taking long drags on a fat cigar.
Likewise, I hope that it has given you some ideas for starting points. The 1792 is a particularly excellent bourbon whiskey and trying out any of these combinations (click the links for more) is a guaranteed luxurious experience and fantastic learning opportunity.
Over time, you will start to discover what you like, and you can even start playing with some of the variables yourself. But start with these, and we can guarantee some excellent evenings and a gentle learning curve to get to grips with the wonderful world of cigar and whiskey pairings.