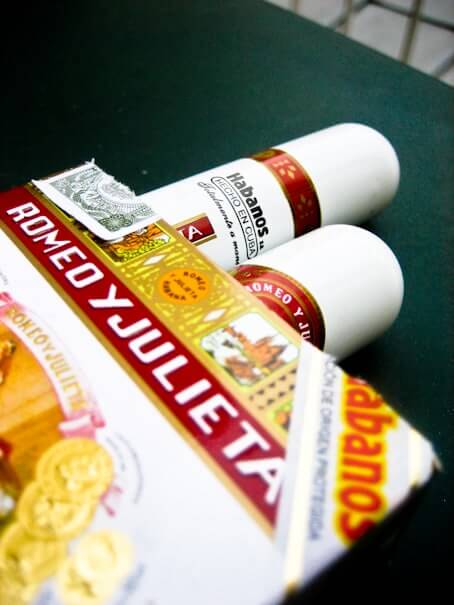 One of the most recognizable cigar brands around the world, Romeo y Julieta has been around since 1875, and was the preferred cigar of Winston Churchill, for whom the brand's flagship vitola is now named. RyJ was drastically affected by the Cuban revolution, with there now being a Dominican version and a Cuban version; the latter is the focus of this review.  The brand makes over 20 vitolas, and regularly has limited editions, including the delicious Duke (a robusto extra).  While in the airport lately, I thought I'd check out the duty free, and ended up purchasing a 3-pack of RyJ No. 3 tubos.  I've smoked the No. 3 before, and have had mixed reactions in the past.  After smoking two of the three tubos in this pack, I figured it was time to share my thoughts.
Coming in at a Coronita size (4 3/5" by 40, or 117mm by 40), this cigar is shorter than the arguably more famous No.2, which is a petit corona (5 1/8″ by 42, or 130mm by 42).  The No. 3 usually comes as a tubo, which is the only way I've ever bought it.
Photo provided by Luke of aspiringgentleman.com
The cigar starts off with a nice rich earthy pre-burn aroma.  The cigar cuts and lights nicely, and starts off slightly bitter before mellowing out.  While this is usually ranked as a medium-bodied stick, I place it moreso as mild-medium, although perhaps the last third is medium as the cigar gains additional power over its length.   There is a consistent cedar taste throughout, as well as a general sweetness.  Beside a gradual increase in strength, the cigar was incredibly monotonic, ending off bitter and sour.
Despite the wind on the patio I was smoking on, the cigar burned quite evenly, and ash was sturdy and attractive.  Of the handful of these I've had, one or two have had construction and burn issues, so beware of the potential for inconsistency.   For instance, the cigar pictured became almost perfectly blocked midway through the last third.  Considering its position as one of RyJ's less expensive cigars, perhaps this is not surprising, although for $10+ a stick at my local shop, I expect better.  Combine that with a fairly bland flavor profile, I'd pass on this cigar if given the chance.  I think there are other Cubans in this price range offering better value, for example the Montecristo No. 4.  In summary, The RyJ No. 3 Tubo is not a huge investment, but you're probably better off spending your money and taste buds elsewhere.