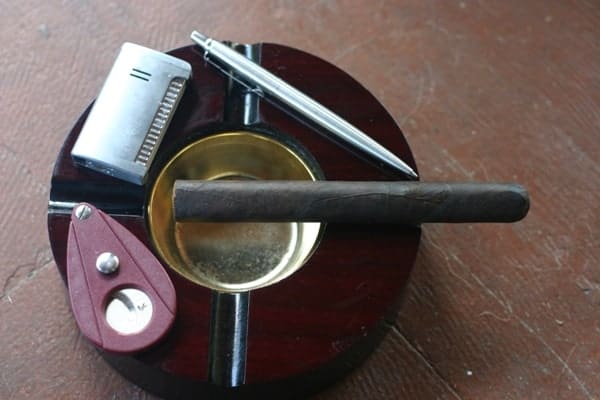 Rocky Patel… if you've read my previous article on his Vintage 1992 line, then you'll know some history on him.  For the fresh faces at TAG, here's a quick recap.  Rakesh "Rocky" Patel was an attorney before entering the cigar industry, who represented Hollywood stars such as Arnold Schwarzenegger and Gene Hackman.  It was through his clients that he was exposed to the world of cigars, and would eventually leave his lucrative firm and break into the cigar industry.  He spent five years in Honduras to learn the trade, including working the fields, and would eventually start Indian Tabac.  Later on, he would start up another line under his own name, and gain a reputation for fuller bodied cigars of high quality.
The cigar I've chosen to review today is a Rocky Patel Edge in the toro size with a maduro leaf wrapper.  It measures 6×52 and uses Nicaraguan maduro tobacco for the wrapper, Mexican tobacco for the binder, and a blend of Nicaraguan, Panamanian, and a mystery tobacco for its filler.  All of this is rolled and created in Danli, Honduras using a recipe created by R. Patel and Nestor Plasencia.  It's marketed as a cigar for "professional cigar smokers only" and to smoke only when sitting down, as well as being the "most imitated cigar in the world".  A bold claim for any cigar and it's probably a combination of the blending and the claims that brought this line such success.
The wrapper is a dark maduro leaf, almost black in its shade, and holds a nice oily glow to it.  It's like looking at a piece of baker's chocolate, or maybe chocolate containing 85% cocoa.  I would almost say it is dyed that color, but I know from experience that it's not.  There are some veins along the wrapper, one larger one in particular.  However, that doesn't make this cigar look like an ugly or cheap one.  On the contrary, given the dark shade and its reputation as a powerhouse smoke, it gives it a rough and tumble appearance, and given the only band on it is a simple one around the foot, makes it look like a dark veteran fighter.  The wrapper is quite smooth despite its rough appearance, feeling like satin as I run my fingers across it.  It's quite the contrast in appearance and texture, going from a rugged look to a smooth texture that's quite pleasant.  Rolling the cigar between my fingers gives me a chance to feel the firmness of the stick, and it's almost like holding a brick in firmness and weight.  It feels very dense, and shows no soft spots at any point.   The scent is very sweet and earthy, immediately bringing to mind thoughts of rich sweet fertile soil before a sweet subtle spice hits my nose and makes it tingle.
Cutting the cap is fairly simple and requires just a little bit of effort to get through the densely rolled leaves while torching the foot of the cigar brings the scent of pleasantly smoldering tobacco.  I take a puff and am greeted with a medium to full bodied mix of wood, nuts, spice, and a bold dark roasted coffee.  As usual, it takes a little bit to let the flavors settle out and develop.  After about half an inch I get a good feel for how the cigar is going to smoke.  It starts off medium to full bodied, lying somewhere in between, and has an earthy and woody character that makes up the core.  I get a slight hint of nuts mixed in with it, bringing to mind a mix of cashews and almonds as the woody flavor fades.  The core flavors lead into a coffee flavor — a dark roast coffee, like the bean is entirely black and rich.  It almost reminds me of Turkish coffee in its strength, bordering on bitter but stopping short of unpleasantness.  The coffee finish is stronger than the core flavors, moving from a medium-full to very full bodied finish that lingers for a bit.
As the cigar progresses on, maybe after another inch, peppery notes come to the fore and it becomes a full bodied cigar.  I get a nice mellow spice and a burst of red pepper.  It isn't the type that makes my senses tingle though, more like biting into a pepper without the seeds, so you get the flavor but none of the burn or spice.  Eventually the pepper would become the dominant flavor in the core, with the woody note being more of a complimenting flavor, all leading into the strong coffee finish.  All in all it's not an overly complex cigar, but it's an enjoyable one for flavor.  I don't have to concentrate too hard on what I'm tasting to enjoy it, and I'm free to sit back on my porch and watch my two German Shepherds play with little worry that I'm going to miss any nuances.
My only complaint with the cigar is how sensitive to humidity it is.  I've had many of these cigars that have burned flawlessly in the past, but this particular one gave me issues, especially towards the end.  The wrapper didn't split or unravel, but it did burn wildly uneven as it soaked up the heavy humidity in the air.  I made sure to keep my humidor well seasoned, and weekly checks with a digital hygrometer showed it stable at 68% RH.  I think that can be remedied by dryboxing the cigar the night before, which will allow it to dry out enough that the wrapper won't be so moist, but without losing all the oils that give it flavor.
As far as value, I think The Edge is pretty high up there.  I can find these for around $5.35 per cigar online, and it's comparable to what I find at my local shops.  I was able to sit back and, for the most part, enjoy my cigar for a solid two hours before finally letting it extinguish itself.  I'm hard pressed to find a lot of cigars that I can actually enjoy for that long, but this is one of them.  It definitely is a cigar to sit down for and enjoy with a strong drink due to its strength, and I can easily see myself smoking one of these around my friends as we play cards or barbeque outside together.  I'd buy another easily, and recommend one to a friend; I'd just remember to drybox it next time.