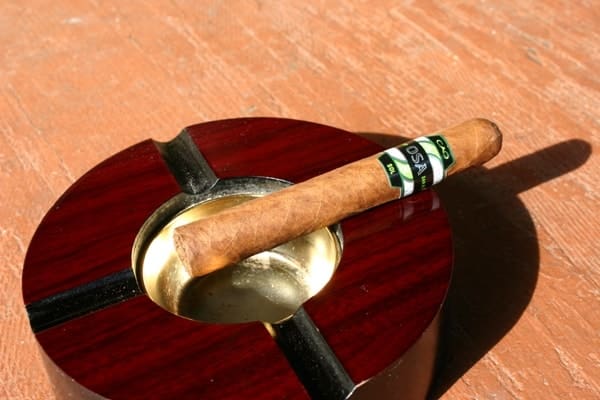 The CAO cigar company is another relative newcomer in the world of cigars.  They were established in 1968 and survived the cigar boom, when numerous cigar companies came and even more fell.  They've created numerous lines and blends with equally unique and innovative packaging.  Now they've created another new line, the CAO OSA Sol.  The secret behind the CAO OSA Sol is the unique wrapper, a proprietary Honduran leaf grown in Olancho, San Agustin, which provides a robust earthy and fuller bodied flavor and aroma.  To balance out the wrapper, a Connecticut Broadleaf binder is used with a blend of Nicaraguan and Honduran tobacco.  The end result is a fairly balanced and earthy cigar that is both enjoyable and well priced.
Photo provided by Luke of aspiringgentleman.com
The OSA Sol will be available in three lines of varying sizes, the Lot 50 (5×50), Lot 54 (6×54), and Lot 58 (6 ½ x 58).  I was lucky enough to be given a five pack of the Lot 54 to review.  First let's start with the general appearance and construction.  Packaging has always been something that CAO has done well, right down to the band around the cigar.  It's a very modern look, with bright sharp colors that catch the eye.  Some may find it odd to have such a modern looking band, but I thought it was well done.  Furthermore, the white around band and box is meant to pay homage to the white painted curing sheds that the tobacco was kept in, which I found to be an interesting way of paying tribute.  The wrapper is a light brown, similar to a shade of lightly tanned leather or light stained wood.  The lighter shade of brown lets some of the smaller veins show through, though the veins that are visible are fairly minimal and do not detract from the appearance.  There is a very minute amount of tooth on the wrapper, so small that you barely notice it without looking closely.  There is also a light shine from the natural oils on the wrapper, and overall it looks quite smooth and soft.  Turning it in my fingers confirms this, giving it the feel of satin, soft and very smooth to the touch.  It feels quite firm and well packed with tobacco, with no soft spots along the length of it.  There aren't any aesthetic flaws at all, not a single sunspot or hint of sloppiness.
I bring the cigar to my nose briefly before toasting and cutting it.  It has a very earthy scent to it, with a touch of sweet spices.  It's like walking out to a garden after a fresh rain, that scent of moist soil, which mixes well with the scent of the well cured tobacco and spices.  Toasting the foot drew those scents out more, sharpening them.  Cutting the cap was easy, though I do suggest using a good cutter since it's a rather thick cigar, and while the wrapper is relatively thin, the binder is thick and the filler is densely rolled.  I take a few slow puffs and am greeted with a chorus of medium bodied flavors, each one having a voice that compliments the other.  I taste charcoal, caramel, toast, nuts, oak, coffee, cocoa, red peppers and spices, hay, and salt.  The flavors tend to stay as a choir for the first couple inches, with no voice overtaking the other or separating out with the exception of hay and salt, which always comes out during the finish.  They complement one another, with an overall earthy tone to them all.
As the cigar progresses, the flavors slowly start to separate out, like hearing different parts of a choir take the lead for different ranges of notes.  The charcoal, caramel, and oak flavors start to take the lead in the beginning, followed closely by toast, nuts, and oak again.  Coffee and cocoa show more towards the end and the finishing flavors are always hay and some saltiness.  The red peppers and sweet spices are always noticeable in retrohale, starting gently at the beginning of the cigar, but becoming much sharper towards the end.  In the last couple inches of the cigar, the pepper and spices are also noticeable in the beginning of the cigar, and make the cigar a firecracker.  The wrapper gives a very earthy feel to the tone of the cigar, without drastically affecting the complimenting flavors.  It's very well done, and very enjoyable.
I've read of others having draw issues when they tried some of the early batches of this cigar.  I can happily say that I had none with any of the ones I smoked, and that a little rest in a seasoned humidor kept the leaves in excellent smoking condition.  The burn was excellent, and fairly straight throughout the entire time I was smoking.  Not once did I have to touch up any of my cigars, and it burned cool and smooth the whole way through.  One cigar took me upwards of two and a half hours to smoke, with some rest between puffs to let the thick and dense leaves burn evenly from wrapper to core.  You'll notice in a couple of the photos that I rushed a little and inner leaves peaked.  After that I kept each puff about a minute or more apart, and the cigar burned evenly down to the core after that, and without canoeing.
CAO has stated that these cigars would all be "accessibly priced", which to me translates that they would be at a reasonable price point that most cigar smokers would be able to enjoyably afford.  The suggested retail prices are $5.75 per cigar ($143.75 per box) for the Lot 50, $6.25 per cigar ($156.25 per box) for the Lot 54, and $6.75 per cigar ($168.75 per box) for the Lot 58.  To put into perspective, at $6.25 for one Lot 54, the cigar I reviewed, I was able to smoke an enjoyable cigar for two and a half hours with a pleasant flavor profile, good complexity, and no burn issues.  Now would I buy a box of these for myself?  No, and only because I prefer the flavor profile of Padrons, which are fairly different.  However, I would happily buy a five pack or two to keep in my humidor so that I had something different that was enjoyable.  If you enjoy the flavors I described above, then I would highly suggest trying a couple of these out yourself.  Considering what you get, it's easily worth the money to try, and you will likely find it to be a good experience.
I want to give special thanks to General Cigar Company for sending me a five pack of these cigars, along with the very interesting information on them as well.  They were very enjoyable, and I'm looking forward to their release.