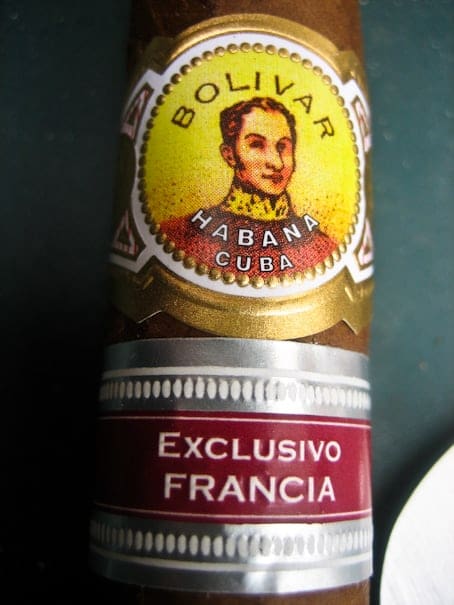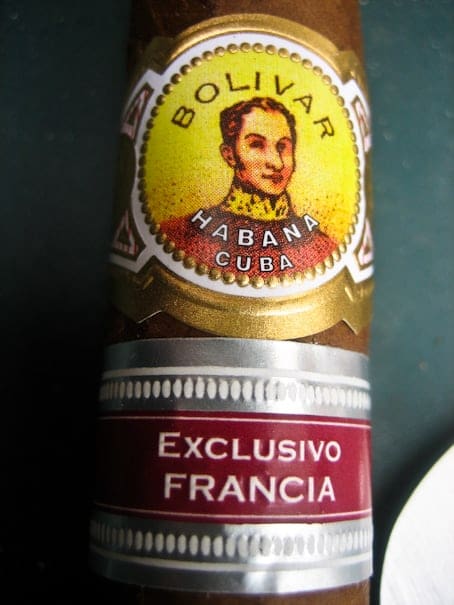 Every year Habanos SA releases a set of regional edition (edición regional) cigars; if you're lucky, there'll be a few in your country.  While the worldwide global brands (Cohiba, Montecristo, RyJ, Partagas, and Hoyo de Monterrey) are excluded, these cigars generally include some great offerings from Bolivar, Punch, Ramon Allones, and other Habanos SA brands.  While most will only ever sample their own country's regional editions, the internet now makes it possible to sample just about any of them.  However, I have seen a 10 pack of the Bolivar Petit Libertador featured in this review on the net for €460, yet I paid about €10 at a shop in Paris.
The Bolivar Petit Libertador is a 2008 France regional edition and comes in at 4" (102mm) by 50, making it a petit robusto.If you can find them in France, they'll be just under €10.  Given its form and its claro wrapper, this cigar should probably cost a couple bucks less, but the extra "Exclusivo Francia" band just feels so good in your hands.
The cigar has a bit of a rough look, lacking the smooth oiliness you'd find in a Cohiba, say.  The foot on this cigar looked a bit scattered to start, but the pre-light aroma was rich, like pure dark chocolate, perhaps a bit vegetal.  The cigar immediately hit with strong flavors and dense pepper, with leather undertones like an old boot.  Ash held very long and tight, and the cigar burned cool throughout its duration.  Nearing the end it gained some woody and tannin flavors, and added a nice sour overtone.  Despite becoming quite strong, I smoked this thing to the smallest of nubs.
I was very impressed by this cigar, and thoroughly enjoyed it, even if Denis over at Cigar Inspector thought otherwise.  You can buy these cigars online for a huge markup, or alternatively buy a flight to Paris…