Few experiences will overwhelm the senses with romantic anticipation like opening a bottle of old wine. It is the reason for wine's greatness in the world of beverages. The older the wine is, the greater the anticipation, and along with it the realities which are equally high and low: the disenfranchised regret of the bad ones, and the sensory ecstasy of the great ones. Old wines can become marker stones in the days that fly by and blur together. Through our wine cellars we are able to chronicle who we are and where we've been. Remember the night we drank the 2001 Von Schubert Kabinett? As clearly as if it were yesterday – by closing my eyes I can still smell and taste every part of the wine. The moral of the story is that if you don't yet have a wine cellar, even a modest one, today is the day to start one by reviewing our article on How to Start a Wine Cellar.
The market has provided us with wine fridges of all shapes, sizes and prices. If you're lucky and can afford one, buy the biggest one you have a space for (or don't find to be obnoxious). If you don't want to go the wine fridge route, you may be even luckier. You get to create you cellar organically from wooden or cardboard boxes. You should put these boxes in the place with not necessarily the lowest temperature, but the most consistent. My wine sits in a corner in the basement, where the temperature fluctuates from 14 to 19 Celcius throughout the year.
You should put a little thought into how big you'd like your cellar to get, and there's a way to calculate that number precisely. Add up how many aged wines you would like to drink every year, and multiply that number by how long sounds like a good time to age wine for you. For me that number is about 12 cases: 8-10 bottles per year and I like the idea of pulling out a 15-20 year old bottle. I started by buying a mixed case of 12 bottles that contained some of my favourite wines and some that I felt had labels that looked traditional and belonged in a wine cellar. Price was all over the map. Masi's Campofiorin was definitely in that first case. Try to shed the intimidation of not knowing what you're buying and rely on your instincts. Even the wine store owner likely doesn't have a full grasp on every wine in the store; the adventure is the point of the wine cellar in the first place.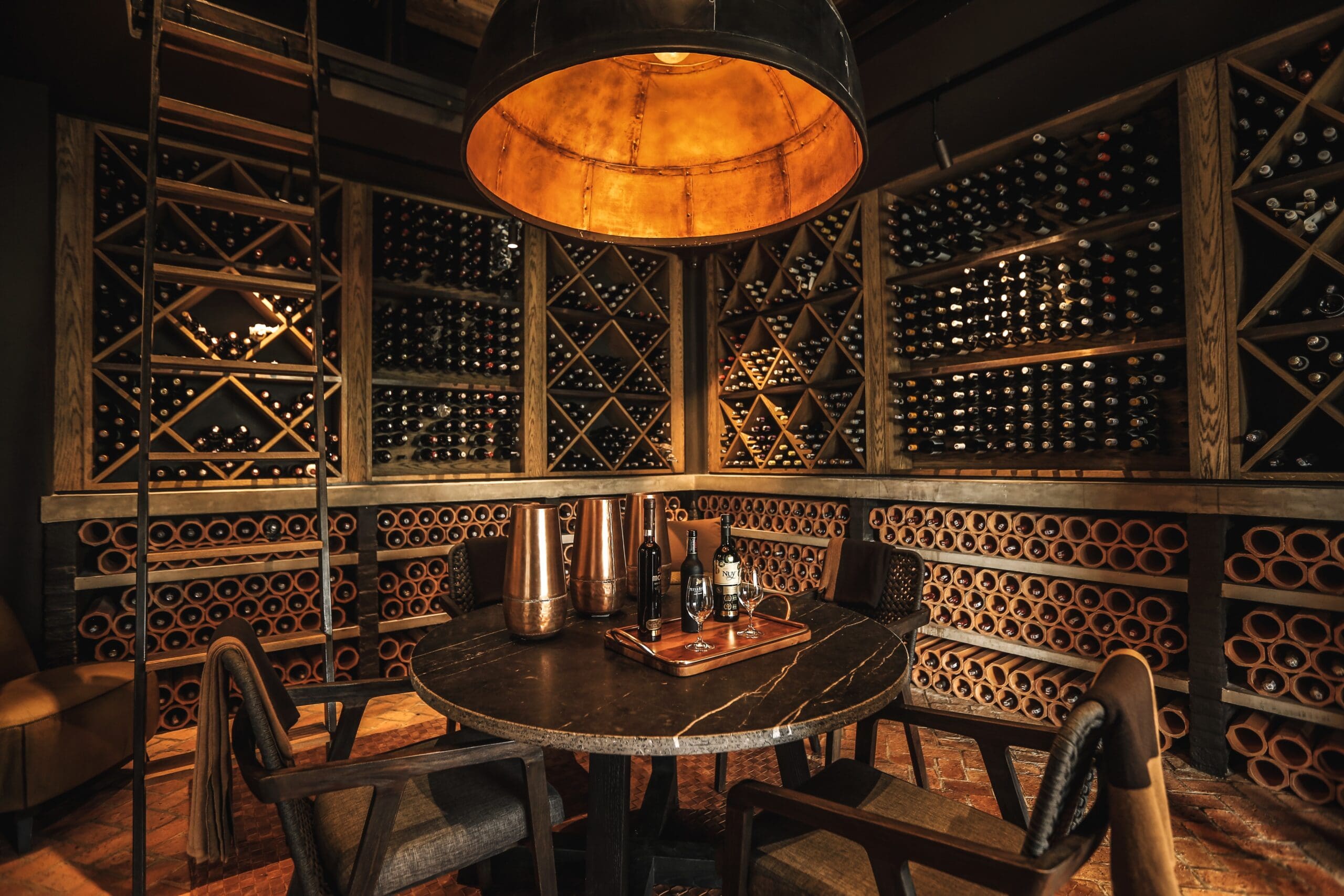 At first you will be your wine cellars' own worst enemy. The temptation is to immediately draw wine from the box, especially when you need a bottle in a pinch and you know it's there, or even worse when you're already a bottle down and get loose and curious. Buy a few extra bottles on top of the first 12 to give yourself insurance. Tape the box shut for at least 6 months. Much like a golfer who realizes that you feel the same about your game even if you improve 10 shots, the first lesson in wine aging is learning to not worry about when is the perfect time to drink the wine. 15 year old Yellow Tail may not taste good but it will taste interesting. Freshly bottled Bordeaux will leave your mouth dry with tannin but will leave an impression of its future greatness. There's no such thing as drinking wine on the perfect day of its apogee. Or as one wine writer put it, there are no great wines only great bottles.