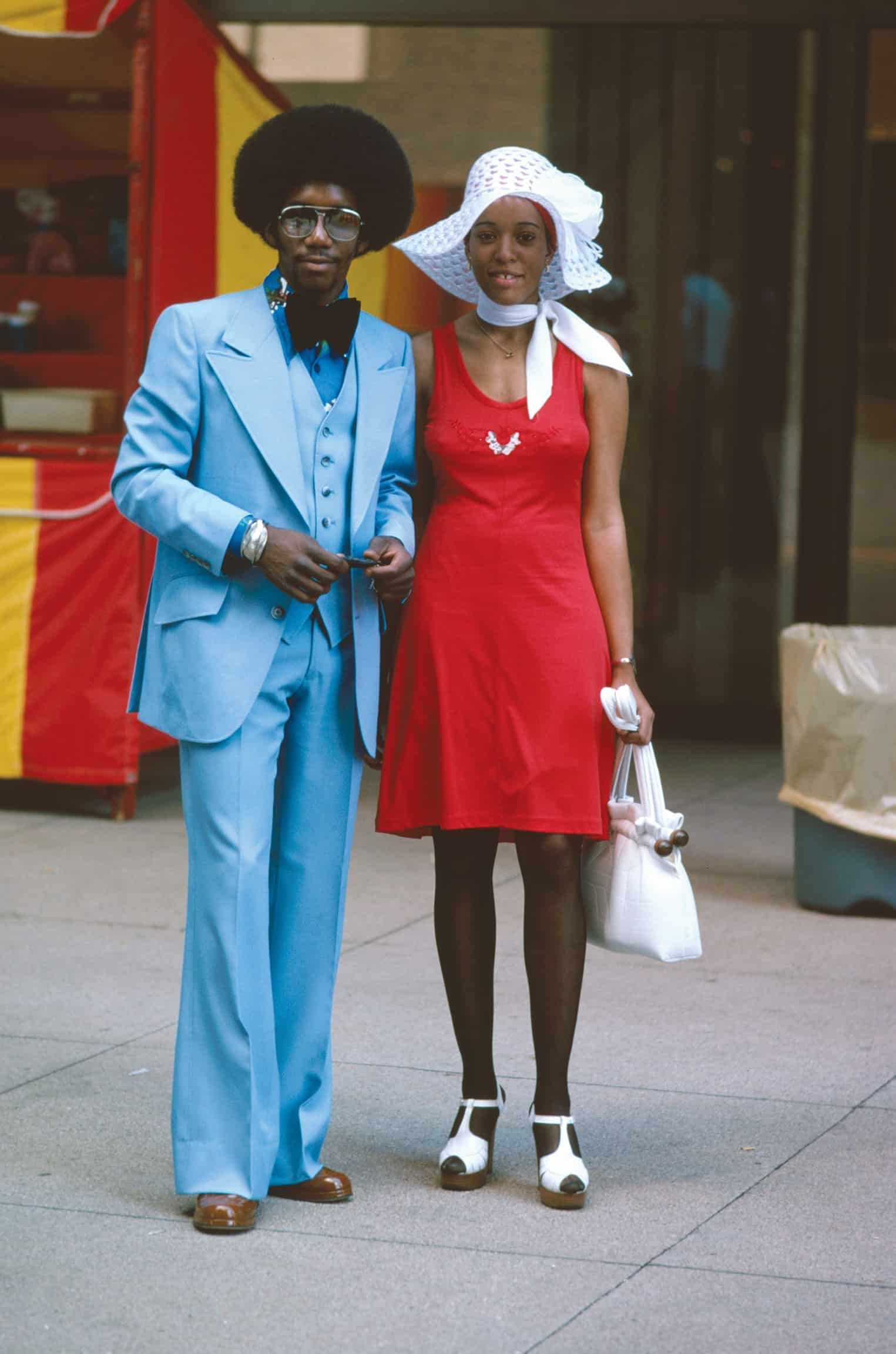 I've always been a fan of fashion in general, and it has been quite an interesting observation when it comes to reviewing all of the new fashion trends that have sprouted up over the past few years.  Fashion, in my opinion, demonstrates personal individuality and self-expression, and with all of the current fashion trends, nowadays, people have the opportunity to express themselves in more ways than ever before with so many unique styles to choose from.
While fashion extends to all types of people and personalities, in this write-up, I'll be discussing changes over the past few years in "men's fashion" and will also review some of the hottest trends/products.
The Revolution of Men's Fashion
Before we delve into how men's fashion has evolved, I felt that it was important to first touch base on men's fashion from back in the 1960's as this was indeed the starting point for where we are today in terms of styles, trends, and patterns for men's clothing.
Nowadays, many fashion aficionados consider the 1960's to be the turning point for men's fashion as it was this time period that first introduced some of the design elements that we still see today.
Some of the clothing released back in the 1960's included items such as shirts with flowered designs, jeans that were "skinny" and even large lapels.  It was at this point, as well, that men's suits became a bit narrower and tight-fitted and clothing brands started to become innovative with their designs.
Not only were the designs of the clothing changing but bright colors also started to become prominent in men's clothing designs. This colorful clothing trend became widely popular and adopted very quickly as public influencers such as the Beatles began to partake in this new fashion trend.
This period eventually lead us to where we are today regarding what's fashionably acceptable and with so many unique styles of clothing that are available, there's no reason for anyone not to be able to find that perfect style that fits their personality.
How Celebrities, Musicians, and Influencers Impacted Men's Fashion
Men's fashion, nonetheless, has drastically changed over time and now more than ever before, we see more and more unique styles, patterns and ideas being presented to clothing/fashion brands for production from those individuals that we label as "influencers" (those with large fan bases).
In previous times, clothing brands would typically create in-house design patterns and product line-ups based on what they felt was trendy at the time which left a gap in the marketplace. Unfortunately, their ideas of what was trendy was designed for the masses, not the individual. For those who wanting what's "hip" or "trendy" or something unique to them, their style and their design preference(s), they were left scouring the stores looking for that piece of clothing hiding on some obscure rack somewhere..
In the present day, the clothing industry has undoubtedly elevated the array of fashion choices presented to individuals which is a result of some of the largest men's fashion/clothing brands in the world partnering with influencers such as Kanye West, Pharrell Williams, Britney Spears and Rihanna (just to name a few).
You see, influencers (especially musicians) have large followings of fans, and fashion brands began noticing the potential of embracing these artists ability to reach more consumers.  As a result, artists began partnering with clothing brands to produce their product ideas while some have taken it a step further and established fashion brands of their own.
This has resulted in some of the most significant partnerships that would ever be formed within the fashion industry with new products and design styles that are in high-demand.
Let's go over some of the influencer-inspired fashion items below that have taken over and grown in popularity over the past few years in the men's fashion world!
How Kanye West revolutionized men's Shoes
In the past few years, the men's shoe industry has seen a lot of changes and new designs released which largely in-part is credited to musician/rapper Kanye West.  Back in August of 2015, Mr. West established a partnership with one of America's leading shoe brands; Adidas, and launched his first pair of sneakers under the brand which was known as the "Yeezy Boost 350" (sometimes referred to as the "Pirate Black").
Little did everyone know, this partnership would soon shift the fashion industry for men as this newly designed shoe with an original concept caused shoe-lovers to go crazy over this new release.
Such high demand for these shoes caused the resale value to scream upwards at 10-20 times that of the retail sale price.
This is the highest resale shoe value of any other modern shoe release under Adidas.
While the release of the "Yeezy Boost 350″ was back in 2015, the Yeezy product line-up has continued to evolve in to new and what some would deem to be "adventurous" styles, and the demand hasn't diminished since its inception.
What's to be recognized here is that fashion trends tend to shift, or perhaps, evolve with time as the unique and creative ideas of individuals influence the culture of people.
The Yeezy brand has forever influenced men's fashion as the brands' success inspired other brands & artists to collaborate. This has since brought hundreds if not thousands of new designs to the industry as a whole.
FUN FACT – The Last Yeezy 350's that were released sold-out in 2 minutes (40,000 pairs)
When I  think of men's shoes, Yeezy's are the first thing to come to mind just due to how much it has popularized (and because the shoes are well built and very comfortable) and how much it has helped to change our perspective on the limits of creativity when it comes to shoes.
How Social Media Changed Men's Fashion
Let's face it, our lives are centered around Social Media, what our friends are having for dinner and what new shirts, shoes, or pants your best bud just purchased over the weekend.  Social Media is where we turn to when it comes to sharing experiences and ideas with others and in the past few years alone has helped the fashion industry to grow at rates that were never thought possible.
Fashion is one of the hottest trending topics across all Social Media platforms and is discussed millions of times per day whether it is from brands or friends sharing a photo of their brand new Yeezy 350's.
For some, it may be obvious as to how Social Media has impacted the fashion community so much but if it's not apparent, take a look at the following facts:
Studies have shown that a friend's recommendation can influence their purchase decision by 81%.
An astonishing 85% of individuals are influenced if a celebrity endorses the product
With friends being able to influence their friends purchasing decision at such an effective rate, the fashion industry has thrived, expanded, and evolved and continues to innovate as their products reach so many consumers thru the outreach they receive from the sharing on social media
I find it to be remarkable when analyzing just how quickly the fashion market has grown which is demonstrated in last year's annual clothing sales. In the US alone, sales had reached an astonishing $315 billion.
Instagram Influence
Instagram is one of the biggest players in fashion as it's the photo-based platform that everyone goes to share photos with not only their friends but their fans as well.  Instagram is by far, in my opinion, the go-to source for anything related to pictures and is especially my resource for seeing the latest trends in fashion.
Instagram is the photo-sharing platform that everyone shares their photos of clothing on, and with 800 million monthly users, it's easy to understand why fashion is so quickly evolving.  I believe that the more ways people can express their ideas to an audience then better and more unique products will be created.
FUN FACT – At the time of writing this post there are 457 million hashtags on Instagram for #Fashion
With the use of Hashtags, clothing brands, users/consumers who purchase clothing and influencers can share their fashion-related content with the world by merely tagging their uploads and instantly all Instagram users can see their content.  Often times, friends will tag other friends in the post which will increase brand awareness for the shirt, pants, or shoes that were shared.
FUN FACT – There are currently 25 million hashtags on Instagram for #MensFashion
This again is a significant contributor to the fashion community as different styles of "men's fashion wear" are shared millions of times per month which will change the styling preferences of others as they're exposed to new concepts of fashion.
Fashion Bloggers – Giving you the "Fashion Buyers Experience" before Purchasing
Since we as people so heavily rely upon the input of others (reviews) when choosing which shirt or pair of pants to buy, it comes as no surprise that Fashion Bloggers have helped to change men's fashion and made it better.
Fashion Bloggers are your typical bloggers except they help to shape the image of fashion since they're often the resource for their readers for anything and everything related to what to wear and what not to wear.
These niche bloggers often provide their hands-on review/experiences of specific clothing items which will give you an idea as to what to expect if you purchase it.  Sometimes, these bloggers will cover upcoming releases in men's fashion which could be the latest shoes or perhaps even the new men's hat being released next week from your favorite clothing brand.
This is one of the many ways that fashion has continued to evolve…
One simple example is that before I purchase a pair of $80 Gucci socks, I want to read reviews from people that have bought these socks, and not just yesterday, I need to know these expensive socks are going to last. This is where I turn to fashion bloggers.
This is a significant component of modern fashion as it allows people like you and me to purchase clothing confidently without the worry of receiving a product that we won't be satisfied with.
Fashion Shows – Demonstrating that Fashion is a Lifestyle
Fashion has become a passion for many and in a way, oddly enough, became a sport in the sense that clothing brands compete against one another at fashion shows showcasing some of the unique clothing that anyone has ever seen.
Fashion shows, in my opinion, are the foundation of modern day fashion as it allows brands to inspire others with creative designs/patterns while also allowing us fans to see all of the incredible artwork (by this I mean designs).
As you can see in the images above, the trends in the pictures displayed above show a huge difference in styling that span generations and these shows are in-part responsible for the fashion trends that we have today.
While not pictured above, certain styling's that we have today such as plaid jeans, denim and non-denim jeans and even suede shoes (just to name a few) wouldn't be around without fashions shows. It's these events that inspire the fashion community as a whole to continue making new and "fashionably trendy" clothing items.
Where's Fashion heading?  Is men's Fashion still changing?
Fashion has always been a trending topic; even before social media was in existence.  All of the modern-day hype about men's fashion is showing no signs of slowing down as we continue to see new and adventurous designs every few months.
Fashion is a unique passion as it truly represents who we are, and people are becoming more and more expressive, so I believe as time goes on we're going to start seeing even more impressive designs and innovations.
What's great about this evolution in men's fashion is that regardless of your personality or likes/dislikes with designs, colors, or styles, there's such an array of styling's to choose from. You'll always be able to find that perfect shirt or that pair of pants that have just the right amount of holes in it (yes, this is a thing).
As a fashion enthusiast myself I'm anticipating the coming years to see what new styles and trends release for us men who take fashion seriously!
How Denim-Styled Pants Evolved in Men's Fashion
I remember as a kid growing up and my mother buying me dark blue and sometimes light blue denim jeans.  Back in those days, the days that I would deem to be the start of the "fashion revolution" was the period in which denim was typically only worn during non-professional settings.  Rather, this style of apparel was rather popular among social settings, gatherings, and parties and was for the most part not "accepted" as the style-of-choice for professional activities (the workplace for example).
Times have certainly changed, and since the inception of "denim-styled" apparel, the fashion industry has seen a host of unique options with new colors of denim and different styles of denim (which we'll demonstrate in the photos in this segment of the post).
FUN FACT – Jeans were first created back in 1873 thru collaboration with Jacob Davis and Levi Strauss. "Jeans" was named after Genoa: a city located in Italy.
Jeans, during its introduction to the clothing world, were primarily used at the time as outdoor work clothes since the material was both rugged and durable and could withstand harsh environmental conditions (thanks to copper rivets that were added to jeans for increased durability).
At the time they were a remarkable addition to the apparel community not only for its practical use/application for working in tough environments but for their contribution to the fashion industry.
For over 140 years, jeans have become a part of our style, our personality, our culture and our influence on current and future fashion trends and will forever influence the fashion movements.
Traditional Blue-Denim Jeans
Your typical blue denim jeans will be styled similar to what's pictured to the left.  Since denim jeans were created there was a coloring agent known as "Indigo Dye" that has been used by clothing manufacturers to achieve that whitish/bluish color that we've always known as "denim."
Denim blue jeans always were and have continued even to this day to be a trendy choice among men's fashion preferences and have blossomed into an array of other unique styling choices over the years that many never saw coming.
Denim Jeans really began to pick up in popularity in the early 1950's and were quickly adopted as the "style of choice" for jeans and at the time were seen by teens as the "apparel style of rebellion."
It was from this point onwards that the youth would continue to stride around in denim jeans which eventually lead jeans to be viewed not only as "labor" apparel but as a fashion statement.
Originally utilized by cowboys in the west and coal miners to nowadays fashion fanatics; denim has undoubtedly elevated its styling options and uses.
From practicality to fashion, denim jeans will never be the same as what some would deem to be "bizarre" styles.  Some denim jean styles nowadays come with holes in the pants, rips/tears or even pieces of fabric pulled off and this is all done intentionally to make a fashion statement. Personally not my style choice, but hey, whatever makes you feel good, right?
Holes/Rips in your Denim Pants are the in-style?
Starting with the denim jeans that have holes, pulled fabric or rips, and tears, this particular style of jeans has become particularly popular among men in the age groups of 16-35 and are considered to be an adventurous style-of-choice that gives off the "I don't care" type of attitude.
Personally, I don't mind the style, I just don't wear it… It can be a style that takes a while to grow on you, but it's a unique and eye-catching choice of fashion.  Other than being fashionably styled, I guess one great perk of the ripped denim jeans would be the increased air flow! Haha
In my opinion, ripped denim jeans are a representation of how men's fashion as such a style just ten years ago (let alone 140) wouldn't be considered to be an acceptable choice.
How Men's Fashion Influenced Denim Color Choices
As we discussed above, men's denim pants were initially intended for the work environment that required a durable fabric that would hold-up to the demand.  As fashion started to become a "thing," practicality was no longer the focus-point of clothing brands; it was the uniqueness of their denim product line-up for men's jeans which introduced tons of new denim colors and shades.
As pictured to the left, new demands in men's fashion have prompted clothing manufacturers such as 34 Heritage to introduce denim jeans with new shades of various colors (white, blue and dark blue primarily).
Some of the most well-known clothing brands, such as Levi Strauss, continue to innovate the men's denim industry by stretching the limits of what's possible.  Some of the more recent styles that are being introduced are more varied color ranges from khaki to red and I guess just about any color you can think of.
I expect that as time goes on, us men will see even more unique denim designs and colors being created.
Denim Jeans – A fad that won't go away
I grew up wearing denim jeans, and so did my parents and theirs did as well.  Denim wear is part of the American culture passed down from generation to generation and will always be sewn into the heritage of men's fashion.
It's incredible to me to see how men's fashion has evolved into a community where all types of styles are accepted and with so many forms of denim available men's fashion has seen no shortage of new washes, styles or cuts.
Regardless of what style of denim you prefer, there's bound to be a pair that will perfectly "fit" your style and personality.
Perhaps being the most significant result of the way men's fashion has changed is the fact that we now have hundreds of denim pant styles to choose from and this just makes expressing our individuality that much easier!
I know there is a ton more to cover here, but we will leave that for other posts.