You probably recognize the Under Armour brand from the number of professional athletes who rock their athletic gear. The most typical association is football, where the sidelines of every team are punctuated by the brand's distinctive UA logo. From shoes to gloves to caps, Under Armour is ubiquitous throughout the NFL. The UA Sport Wireless Flex by JBL is new and well-designed neckband-style Bluetooth sports headphone. This new product marks the continuation of the collaboration between Under Armour and JBL. The result is probably the best possible athletic headphone offering so far – the best of JBL's renowned sound innovations with the UA design that puts the athlete's needs first.
One of my pet peeves about headphones like this is that they usually pop out of the ears during even light athletic activity. I have to say that this was not the case with the UA Sport Wireless Flex. It seals well in the ears and it's resistant to sweat and have magnetic adherence so they can withstand some serious grinding. This is a serious plus. It means that the music stays locked in, but the headphones retain the mobility and flexibility needed with exercise. Whether you're pumping iron at the gym, or laying out for the perfect snag in the park, these headphones are guaranteed to come along for the ride with you. In addition, they have a LED light strip that has three flash modes for night activity.
It features "bend and stay" flex zones that can be fitted to match your neck. It also has a speed charge feature. The battery life is estimated at twelve hours for a medium to loud volume level. Longevity is important in a sports headphone. You can rest assured that the UA Sport Wireless Flex by JBL will be there to provide the soundtrack for not only your match, but your epic rematch.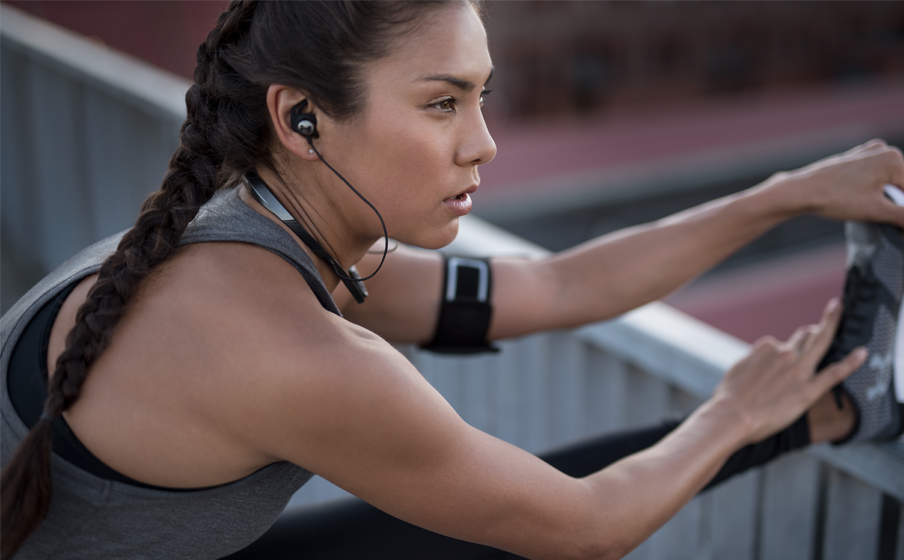 The sound quality is pretty sick. The bass is more than decent for this price range. It's not going to get to next level, but it's high quality enough to be used not only for sports and running, but also for everyday life. It also has a built-in microphone so you can take phone calls and record memos. While it's not the cheapest option on the market, the UA Sport Wireless Flex by JBL is a sweet sound, a tight fit, and has enough unique options to make it a superior choice in the sports headphone marketplace.The headphones were provided for review purposes. All opinions are our own.