We are finally coming out of lockdown, and more and more of us are going out for meals with friends and family, or even on dates (if you remember what those are). Not only do you get to enjoy delicious food made by professionals, but your drinks are poured and delivered to your table too. Many of us have our favorite tipples picked already, but even though a draught beer or cocktail are some of the things we've missed the most, sometimes you want to make a good impression. And what's better than a perfectly paired wine to go with your meal, proving you are a sophisticated man when you know how to pair a particular wine with a signature dish?
The problem comes when you don't actually know which wine goes with which meal, though, and no, ordering the house red with your steak does not have the same appeal as an Argentine Malbec. Luckily, we've picked five of the most common restaurant meals and their ideal wine combinations so you can appear upmarket when you pair your wine with minimal effort.
Bolognese
Who doesn't like a good pasta dish, particularly those featuring bolognese? Many think this iconic sauce is made with red wine, so the pairing is a no-brainer. Well, you may be in for a shock. 
As explained by the experts at Pasta Evangelists, ragù is a traditional Italian meat-based sauce, while bolognese is a type of ragù made using white wine and tomatoes. "Extra ingredients such as wine and tomatoes are often added to a ragù, with many regions of Italy having their own different takes on the dish." So, when we say bolognese, we often mean ragú. Either way, picking a fragrant, mid-weight red will pair with your pasta perfectly.
A Sangiovese is a cheeky option that can easily be missed — it's high in acidity (which means it works particularly well with tomato-based dishes), so the richness of the sauce is balanced out, and you are left with the berry undertones of the wine. More classic combinations include a nice glass of Chianti, Barbera, or Merlot, but any Sicilian red will do the trick. If you're looking for something more adventurous, you could opt for Lambrusco — a sparkling red wine to pair that will enhance any bolognese dish with its airy yet sulfurous notes.
Steak
Yes, yes. Red meat equals red wine. We all know that. The tannin molecules in it bond with the protein in the steak, turning even the driest wine into a delicious, smooth nectar of the gods. But there are so many reds on the market it makes it difficult to choose the perfect pairing. Well, it mainly depends on the type of steak you pick, seeing as the levels of fat, juiciness, and texture differ. For example, ribeye is a robust and juicy cut, so you want to pair it with a dryer wine. An Argentinian Malbec is a great match, or if you really want to impress, a spicier kind like a light Zinfandel will be an unexpected choice that only true wine connoisseurs will know to order.
Contrastingly, you can play around with a leaner cut such as the filet mignon. An airy Pinot Noir will complement it, but if you opted for a steak sauce that is thicker in nature, you could go for a heavier, smokier Pinot Noir. In fact, any dry red will do — Syrah/Shiraz is also a fantastic pairing. A flank steak would benefit from the fruity essence of a Merlot owing to its dryness, and so will a lean sirloin. However, if you want to keep it simple, Cabernet Sauvignon is always a good match for any chunk of red meat.
Lobster
Lobster is the epitome of sophistication. It truly is an exceptional dish for a special occasion, and what's more special than going to a restaurant after over a year of on-and-off lockdowns? This mild, light, and sweet shellfish is decadent in flavor and texture and will suit wines with a similar crisp and fresh quality. White wines are the way to go. However, if you insist on choosing red, Chianti works particularly well with lobster. It is herbaceous and low in tannins, and its acidity supplements the natural flavors of the dish. That being said, we still recommend sticking to whites, as their lightness is particularly suitable for crustacean meat.
The ultimate wine to pair with lobster is a classic Chardonnay or Chablis. They are light yet versatile, and the citrusy hints that are common in these varieties — especially the Chablis — amalgamate impeccably with them. Riesling is another superb option, as it is high in acidity but still full of sweet, citrusy, and floral notes, which enhance the natural sweetness of the lobster. A spicier match is a glass of Pinot Gris — just as aromatic but also gingery and almost tropical-tasting, making any kind of seafood shine in its light goodness. Lastly, if you're a fan of sparkling wine, we recommend pairing lobster with sparkling rosé. It may be a little risky, but the fruitiness of the variety is superior in this case.
Sushi
Of course, a classic order with sushi would be Japanese rice wine, also known as saké. However, if you want a more standard grape wine to pair with your rolls, there are a few varieties that work harmoniously with each dish, depending on what kind of sushi you order. Riesling accompanies spicy rolls beautifully and especially spicy tuna. It won't only turn down the heat but also bond amazingly with the mayonnaise that's so common in this type of sushi, balancing it with the sweetness and acidity of the wine. Unagi, or freshwater eel, will be complemented with spicier varieties, like the gingery Gewürztraminer, while salmon rolls benefit from the dryness and acidity of a Provençal Rosé.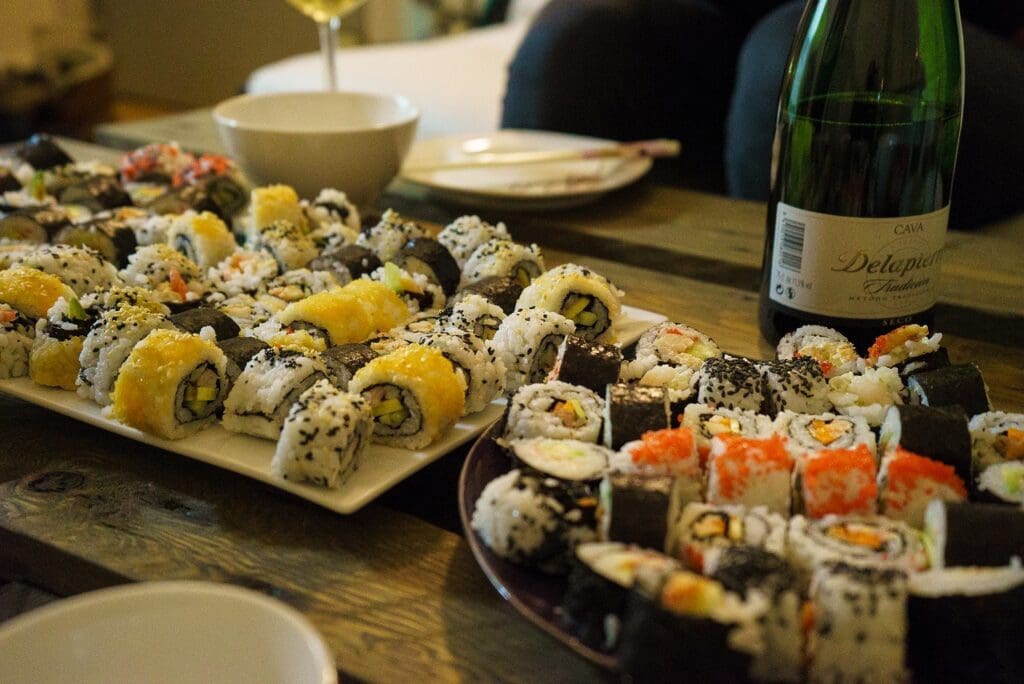 A perfect red for the occasion would be the Pinot Noir, thanks to its robust but delicate taste. That being said, our top one-size-fits-all recommendation would be a crisp, clean white. To maintain authenticity, why not pick a nice glass of Japanese Koshu? Or, if you want to stick to more common wines, anything from Pinot Grigio to Chablis would be a great accompaniment to anything off the menu.
Curry
Indian food is one of the cuisines we love eating the most, especially when surrounded by a group of friends or family. Curry, in particular, is such a versatile dish, and the ingredients in it differ not only from restaurant to restaurant but also from plate to plate. The same curry can have the option for chicken, lamb, or prawns — and we're all for it. However, it makes picking wine slightly more complicated, as you're probably going to be mixing lots of flavors and types of meat, as this is food for sharing. That's why Indian curry works best with eclectic and aromatic whites like dry Muscat.
Should you want to get more specific, though, we've got you covered. If you're not deterred by multiple chili symbols next to your curry order, off-dry Riesling, Chenin Blanc, or Alsace Gewurztraminer will be your best friends. They're not too sweet to burn the spice completely, but they also won't become too acidic combined with the fiery quality of the dish. For the more medium-heat kind of guy, a Pinot Gris is the most elegant choice. If you're unsure how spicy your curry is going to be, there are many heat-level guides that can be extremely helpful for your general knowledge and wine-picking, but also your tongue. White, cream-based curries will be boosted with a floral Gewürztraminer or lightly oaked Chardonnay, while red, tomato-based dishes pair best with red wines like the spicy Grenache or full-bodied Pinot Noir.
Featured Image by hcdeharder from Pixabay