Ask a homeowner, and their preferred renovation space would be to start with a bathroom. Homeowners enjoy the idea of renovating the bathroom more often than other spaces because they are smaller, and the job is more manageable. Moreover, these small spaces require minimal costs that don't pinch their pockets. With an affordable countertop, less flooring, and minimal painting, you could still transform your bathroom into the most attractive one. 
Although renovating your bathroom is a convenient process, there are a few effective tips to keep in mind. By focusing on these tips, you can make your bathroom renovation process cost-effective, efficient, and seamless. However, before we move on, don't forget to visit this article for some relevant information regarding bathroom renovations.  
1. Pick The Right Flooring
Simple bathrooms with plain tile flooring can be too dull. If you want to spruce up your bathroom interiors, it is best to start with the flooring. Yes, your bathroom floor can bring all the differences that you are looking for. Make sure that whichever type of flooring you choose is safe enough to install in the washroom. Keep in mind that the floor should be non-slippery, easy to clean, and durable enough. Porcelain tiles, vinyl tiles, and sheet vinyl flooring are some of the best bathroom floorings that you can pick at affordable prices. We would have recommended solid wood floors, but since they may not be very ideal from a practical standpoint, you may want to push them down your list of choices.  
2. Consider Bright Lighting
Bathroom lighting matters because some of the most precise activities that require careful action are carried out in these spaces. For example, shaving, cleanup, and more things are usually done in the bathroom. Therefore, if the bathrooms emit dim lighting, you may be more prone to accidents and injuries. Also, these spaces may not be safe enough for your daily use. That is why you must always consider sufficient lighting in the form of bathroom mirror lights and dimmer switches.
3. Add More Hangers
Generally, bathrooms do not have enough space to accommodate extra items. Also, storing everyday items inside the storage space isn't always a convenient option. That is why we recommend you install a sufficient amount of hooks and hangers to ease the process of enhancing bathroom space. You can use these hooks and hangers to hang daily essentials like towels, napkins, and fresh clothes. As such, reaching for them becomes easier and also reduces your time consumption. In addition, you can also hang your bathrobes and keep unused sections of the walls busy. Such a thing allows you to make ample use of every corner of your bathroom wisely. 
4. Mirrors Are Never Enough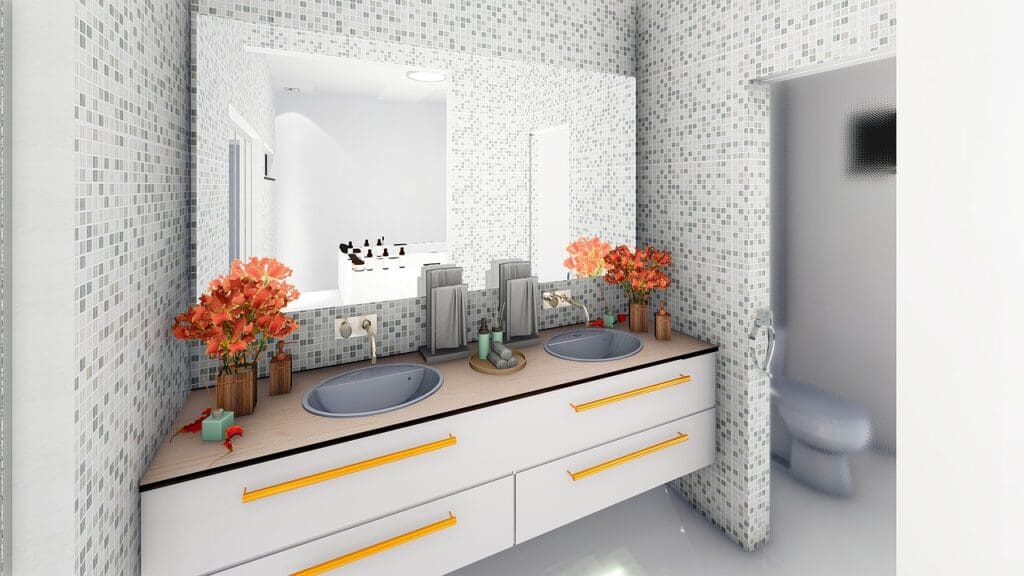 Bathrooms are tiny spaces that may look even smaller with more accommodation of other items. As such, most people tend to feel suffocated and do not enjoy the experience in their bathrooms for a long time. This is less likely to give them the relaxing experience they look forward to when visiting their bathrooms. With the inclusion of more mirrors in the bathroom, it becomes easier to enhance the space and prim up yourself whenever needed. Unique mirrors may also act as versatile design elements that may improve the lighting in the washroom. So, if you are planning to install a second mirror in your bathroom, don't hesitate to do it when you are renovating your bathroom.  
5. Add Plants For A Pop Of Color
Plants in the bathroom have become a versatile addition for all the right reasons. Primarily, they are one of the most affordable decor pieces to enhance the bathroom appearance. You may also scout for plants for a pop of color. Installing a floating shelf helps give a purpose to these plants and creates some more cozy space to count on. 
6. Focus On The Bathroom Ventilation
We often forget to offer sufficient ventilation to these cozy spaces. Without proper ventilation, your bathrooms are more likely to suffocate you and make you want to escape right away. Even when you have an exhaust fan installed in the washroom, you have to ensure that it is sizable enough to offer the purpose you are looking for. That is why it is wise to consider the appropriate size for a bathroom exhaust fan. You can also go for bathroom fans installed on the ceilings for enhanced ventilation all the time.
7. Add The Right Color
If you want to make your bathroom look bigger, the color palette plays an important role. Many people tend to go for darker colors because they are easy to maintain and do a great job at hiding scratches or stains. However, these dark colors are more likely to leave you claustrophobic as they give the illusion of smaller rooms. That is why it is good practice to rely on colors like white, off-white, gray, light pink, and neutrals. So, your bathroom is more likely to look larger and give breathable vibes. 
8. Add Freestanding Pieces
If you have a spacious bathroom, you don't have to shy away from incorporating one or two freestanding pieces. This can come in the form of a decorative chair or a cupboard. Such aesthetics are the best to function as design elements in your bathrooms. If you may, please try and move the unnecessary items into the other room. We recommend you to use a cupboard in this case as it can serve the practical purpose of storing bathroom essentials, soaps, towels, and small items. 
9. Pick Multipurpose Items
In cozy spaces such as bathrooms, multipurpose items can have all the fun of the fair. They not only provide umpteen usefulness but also make your bathroom look brighter and bigger. That is why you must try and look for multipurpose items such as multipurpose drawers, cupboards, and other storage spaces. You will start to notice the difference in no time. 
The Bottom Line
These were some top bathroom renovation tips that you can choose for your next bathroom renovating experience. By keeping all these tips in mind, there is no way you would go wrong with your bathroom interiors. So make sure you opt for the right team to help you curate the bathroom of your dreams. So why keep waiting? Start today.
Featured Photo by Phil Hearing on Unsplash