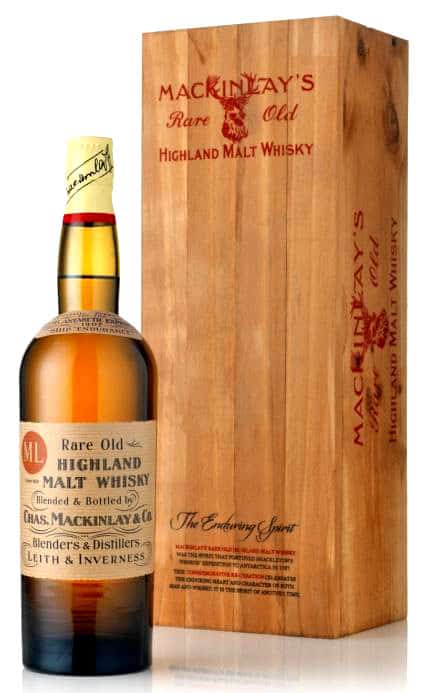 Whisky lost in 1909. Rediscovered in 2009. Replicated in 2011. That's the Coles Notes of the history behind Mackinlay's Rare Old Highland malt, one of the most talked about whisky releases of recent years.  Mackinlay's Rare Old Highland Malt, originally produced at the Glen Mhor distillery, was the primary method Ernest Shackleton and his team used to keep warm on their 1907 expedition to the Antarctic.  Perhaps they  got a bit too warm as they ultimately failed to reach the south pole, returning home in March 1909 and leaving behind 3 cases of whisky in the Antarctic ice.  Several bottles were found during archaeologic work in 2007, and ultimately some of this recovered whisky was studied by Whyte and Mackay's Richard Paterson, at which point it was found to have used Orkney peat in malting, was matured in American white oak sherry casks, and came bottled at 47.3%.  In recreating the whisky, malts from (now closed) Glen Mhor were combined with others from Dalmore and elsewhere to attempt to best emulate the 100+ year old whisky, with an ultimate production of 50,000 bottles, each priced around $200.
Mackinlay's rare old highland malt is light gold in color, with decent legs. On the nose, we picked up simple honey and icing sugar notes with undertones of vanilla. Ripe apples and peaches also feature alongside cinnamon and nutmeg, creating a elegant yet simple nose. On the palate, nougat and burnt caramel become more prominent, highlighted by hints of mesquite smoke and nuts, with the sweet tobacco finish lingering.
All said, this is an enjoyable whisky.  While the price is steep, it may be one of the rare opportunities to try Glen Mhor whisky (even if blended), and makes a great collector's piece.  Although given how enjoyable this whisky was, it's sad to think that a great many bottles will likely sit on shelves for the next hundred years.  I can only hope that a few find their way into antarctic ice.