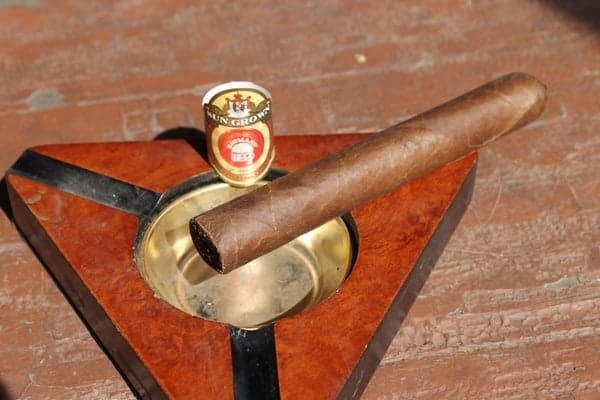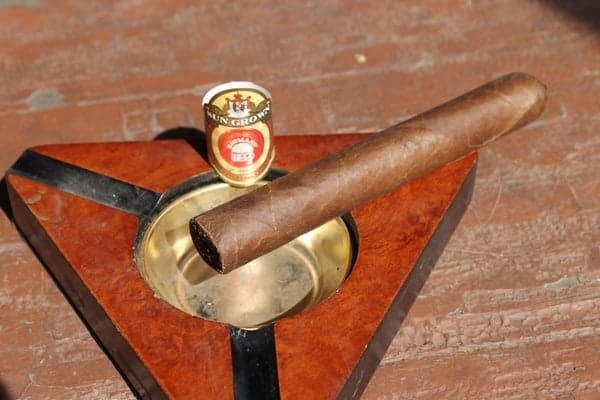 Cigar makers have such interesting histories.  It seems that many started their foray in the tobacco industry without any idea that they would become famous for their cigars.  Herman Upmann is one of those who entered into the world of cigars from an industry completely unrelated to tobacco of any kind and become hugely successful.  He began as a German banker who created a line of cigars to promote his banking firm.  Now his legacy lives in H. Upmann cigars, made both in Cuba and South America.  Today we'll take a look at the 1844 Sun Grown line.
This particular vitola is their Magnum, measuring in at 6×54.  It is wrapped in a darker chocolaty brown Ecuadorian Sun Grown leaf that looks fantastic.  It isn't quite as dark as a maduro, but it is a touch darker than a natural wrapper.  Under that are a Connecticut Broadleaf binder and a blend of Nicaraguan and Honduran long filler.  The wrapper has a few prominent veins that run along it, but otherwise has minimal veining.  The few veins that are on the wrapper don't detract from the appearance either, and, to me, just advertise that this is a tobacco leaf, not a sheet of velvet.  There is very minimal tooth on the wrapper, and a light coat of oil that shines in the sunlight.  Despite the smooth appearance, the texture is a bit on the rough side.  Here you can feel that this is, in fact, a tobacco leaf, and while not quite rough, it isn't smooth either.
I bring the cigar up to my nose to take in its scent.  It brings to mind fresh soil in my grandmother's rose garden after a cool rain.  It's very earthy, with a rosy floral note that gives it a sweet undertone.  As I turn the cigar between my fingers I get a feel for how solid the cigar is.  It feels well rolled, without any soft spots along the entire length.  Overall the look, feel, and scent is pleasant.
I toast the tip of the cigar with my torch, and cut the cap with my Xikar cutter.  Cutting the cap wasn't difficult, but I would suggest making sure the blades are sharp so that you don't get snagged on one of the veins from the wrapper, which run the entire length of the cigar.  A few short puffs and I can start to get a feel for the flavors of the cigar.  First I notice a definite earthy sweetness with woody undertones.  Charcoal and sweet spices pick up afterwards that last into the finish.  The sweet spices mingle well with the other flavors, helping round out the flavor profile.  I can't quite put my finger on what the spice is, but it strongly reminds me of what I've tasted in Padron cigars.  I like it.
As the cigar progresses so do the flavors.  White and black pepper starts to pick up in the finish, adding a bit of a kick.  It doesn't become the main flavor, but seems to come in after the main flavors to refresh the palate.  The earth and wood balance out with the charcoal and sweet spices, and the flavors come together in a nice harmony.  It isn't until the last few inches of the cigar that the spices and pepper pick up to become more dominant, and makes for a nice finish to the cigar.
Overall I was very pleased with how this cigar smoked and tasted.  The flavors were different enough that they gave some complexity, and they came together so that it was a well rounded flavor profile.  As I smoked the cigar on my porch I couldn't help but think of the times that I was with my family while my grandmother cooked on the grill.  The charcoal, spices, and pepper just brought out those memories, and it was a good experience.  The cigar proved that it was rolled well in how slowly and evenly it burned.  Even with the breeze blowing across the open porch there was never any hint of an off burn, and the cigar lasted two hours in total.  I've found this cigar to sell for between $6-7 online, and would gladly buy it at that price point.  I'd also be happy to suggest it to a friend who wants something medium bodied and a nicely rounded flavor profile.
I'd like to give special thanks to Eddie Atalla from Tobacco Country USA for sending me this cigar to review.  He's been an exceptional shop owner, and I highly suggest anyone in the Jacksonville, NC region to take a look at his shops.