Got a trip coming up? Going off the beaten track? Or maybe just traveling for business?Travel gadgets make our lives a lot easier when you go away for an extended period of time. We have come up with 12 essential gadgets that every man needs when he hits the road.
#1 Prodigy Smart Watch
The Prodigy Smart Watch can actually be used as a phone as you can insert a SIM card inside and leave your expensive handset at the hotel.  You can also connect it to your phone via Bluetooth. What's pretty cool is that it has a UV radiation checker, heart rate monitor, sleep monitor, ECG analysis, fitness tracker and a sedentary reminder so you can stay in shape while you are away.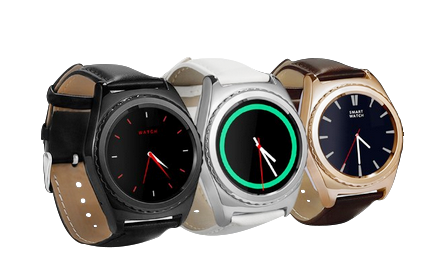 #2 International SIM Card
Save yourself the hassle of buying local SIM cards and trying to work out how much minutes/data you get in local currency.
An international SIM card can reduce roaming charges by up to 95%, allow you to receive incoming calls free of charge while keeping your number. A must have for any traveler.
#3 Portable Wi-Fi Router
Not everywhere has free Wi-Fi.
With a portable Wi-Fi router you can use an international data SIM card and set up your own private Wi-Fi network. Perfect for both travelling solo and in a group – you can even get download speeds of up to 150mbps.
#4 Travel Pillow
Want a travel item that will bring you much needed rest in tight and uncomfortable spaces like your economy airplane seat?
The Voyage Pillow from Sondre Travel that was launched on Kickstarter is exactly what it sounds like. The 2.5 ounce soft plush fabric pillow was designed to be compact and comfortable. The Voyage Pillow raised over $100,000 in Kickstarter funds because real users liked the idea of its design with a tapered eye mask, microbead filling, and more.
The company has described the Voyage Pillow travel features below.
Microbead Pillow: Thousands of tiny microbeads fill the Voyage Pillow to adapt to any sleeping position for a custom and comfortable rest
Multi-Purpose Band: Attached at each end of the pillow, the multi-purpose band allows you to use the Voyage Pillow in endless possible ways for a comfortable rest
Tapered Eye Mask: Block out unwanted light over your eyes when sleeping with the low profile tapered design
Poly/Spandex Fabric: Fit almost every head size with the stretchy spandex exterior fabric
2.5oz Light Weight: At only 2.5oz, you'll almost forget that you even have the Voyage Pillow in your luggage
Soft Plush Fabric: Enjoy the softest plush fabric across the interior of the Voyage Pillow
Compact Design: Save the space in your luggage with the Voyage Pillow's compared to a traditional U-Shape travel pillow
#5 Smart Suitcase
You have a smartphone but do you have a smart suitcase?
Controlled via a mobile app a smart suitcase has built in GPS (a must for tracking lost luggage), built in scale so you can monitor its weight before you check in and a digital lock for security.
#6 Phone Camera Lens
How good is the lens on your camera phone?
Probably pretty decent however with an extended phone camera lens you can improve your travel shots with added zoom and fisheye/telephoto options. It certainly beats carrying a bulky DSLR camera around with you.
#7 Emergency Battery Charger
We all know that even the best smartphones have fairly limited battery life.
A rechargeable emergency battery charger plugs into your laptop, tablet or smartphone and gives it some extra juice. An essential accessory if you can't plug your device into an electrical socket for a while.
#8 Power Splitter
Tired of carrying 4 difference chargers around with you?
A power splitter lets you charge all your gadgets with one device. With a surge protector and AC/USB slots you can boost your laptop, smartphone, tablet or camera from one electrical socket.
#9 Noise Cancelling Headphones
Sleeping when hitting the road can be difficult especially in airports, hotels and long distance transport.
Noise cancelling headphones not only remove any background noise to let you drift off for a while but provide great sound for your music and to catch up on your favorite podcasts.
#10 Bluetooth Speakers
If you are travelling in a group and need some music to keep everyone entertained then Bluetooth speakers are a must have travel gadget.
They have a long lasting battery and can be easily controlled via your smartphone or tablet. Simply select a playlist and off you go.
#11 Pocket Sized Washing Machine
Venturing off the beaten track means washing your clothes can be difficult. No-one wants to sit beside the guy on the bus wearing clothes that haven't been cleaned in 2 weeks.
By just adding water and a cleaning solution your clothes can have a portable machine wash in just a few minutes. Great for camping, backpacking or hiking.
#12 RFID Shielding Security Wallet
Finally, you need to think about your security. Pickpocketing and identity theft has become sophisticated and there are lot of anti-theft travel accessories out there.
With an RFID shielding wallet you can protect your credit cards against RFID scanners, safeguard your privacy and avoid any unwanted huge credit card bills when abroad.
Travel Gadgets Conclusion
Going off the beaten track doesn't mean you need to give up your luxuries or live a minimalist lifestyle.
With these gadgets you can stay safe while travelling in style.