Are you satisfied with how Tinder works for you? If you are not, read this article to learn how to improve the situation with Tinder Bio Examples.
You probably can't get a match because your dating profile misses vital information. Recent studies state that 98% of females are less likely to "swipe right" if the bio is empty.
If you want to go on dates more often, you should creatively describe yourself. Look at the following Tinder bio examples to understand how to do it right. When installing Tinder, you should remember not only about personal safety but also about the cyber-security of your phone. Hackers can spy on your phone without touching it and gain access to your data and documents. You should install a data security application like a VPN in this case.
Also, a man must stay focused and relaxed when talking to ladies. Women usually have excellent social and analytical skills multiplied by developed empathy and will feel how you tremble even if you text them. So, having a bottle of calming watermelon delta 8 gummies will help you relax and boost your coolness with a relaxed texting tone. 
Better than your ex
Women are more selective than men, and they swipe left more often. So you should try your best to make your profile stand out.
You should add a catchy phrase to draw the girl's attention to your profile and let her know you are a good guy. If you write that you are "more fun, caring or sexier than her ex," your bio will win her smile.
Screenshot source: https://go.tinder.com/q0D0Rlx9xjw-Gabe
Serious intentions
Do you want to find your soulmate using Tinder? If yes, you shouldn't hide your serious intentions.
You may write a funny phrase like this: "Not looking for anything serious, just a wife and a couple of kids." It will help you grab the attention of the women ready to start a family life.
If you dream about having a big house and a dog, feel free to share your dreams with your potential match. It will increase your chances of finding a girl with similar life goals.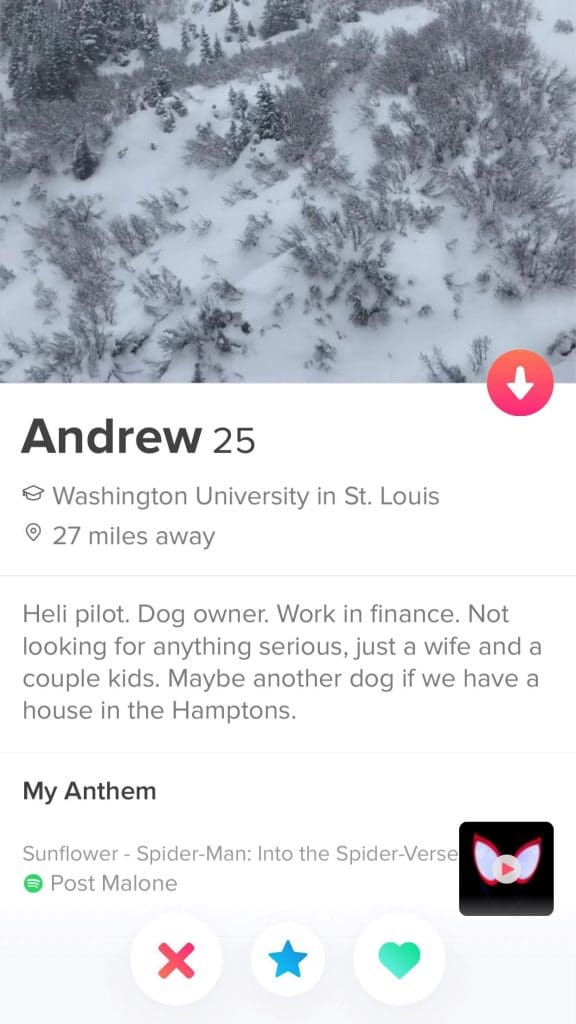 Screenshot source:https://go.tinder.com/kQIzZFx9wMY-Andrew
Joker
Most women say that a sense of humor is the very trait they want in men. So if you have a good sense of humor, don't hesitate to show it.
Obviously, it would be best if you didn't write anecdotes and jokes in your bio. But you may try to describe yourself in a funny way.
Take a look at the following Tinder bio example. It contains only one sentence: "I make books and videos for work, and give beers to cats for fun," which sounds like a perfect caption for the profile picture. This bio is hilarious and catchy.
Screenshot source:https://go.tinder.com/lhs6wFx9wCw-Joseph
Ironic dog lover
An ironic statement is a great attention-getter. If you follow the next Tinder bio example and name yourself a "corporate slave Mon-Fri and adventure seeker on the weekend," your profile will not leave girls indifferent. This phrase sounds much better than ordinary statements like "I am a hardworking accountant who loves to have fun."
And if you add a photo with a dog and hashtag #mustlovedogs, female dog lovers will have no other option but to swipe you right. This little trick will help you to find a perfect match or at least avoid dating cat lovers.
Screenshot source:https://go.tinder.com/xevDAlx9wG8-Daniel
Pros and cons
Another great idea to fill in your bio is to list your pros and cons. Writing down your advantages, you may mention your hobbies, sexual skills, and good character traits.
Here is a little trick for you. If you add an intriguing phrase like "better looking in person," more women will date you. Females are curious by nature, so they will want to see what you actually look like.
What about listing your cons? It would be best if you didn't mention your negative personality traits. You may write one or two fun, embarrassing facts about your childhood or real-life experience in this section.
Screenshot source:https://go.tinder.com/oTxFI1x9v7Q-Matt
Mr Paradox
You don't need to write about yourself in detail. One or two catchy phrases are enough to grab attention and drive curiosity. Your major tasks are to show that you are one in a million and clearly state your intentions.
If you describe your personality as "non-monogamous romantic," women will understand that you are looking for a one-night stand. You can be sure that girls, who appreciate honesty and love romance, will swipe right.
Screenshot source:https://go.tinder.com/6VZMU1x9k_c-Khamil
Family-oriented traveler
Today, you will not impress a woman with the phrase, "I like traveling." Almost everyone likes to travel, so it will not help you to stand out. But if you write that you have practiced your survival skills in more than eighty countries, it will draw attention to your personality.
Moreover, if you follow the next example and mention that you are a "nephew-and-niece-enthusiast" (or simply a family-oriented male), women will want to know you better. Most females look for men who love kids, and you seem to be a perfect candidate.

Screenshot source:https://go.tinder.com/e2VTHlx9vi0-Nathaniel
Single-minded
Today, If you are not going to start any serious relationships, don't mislead female Tinder users. If you are interested in sex only, admit that you are "looking for a one-night stand" and add a few interesting facts about yourself.
For instance, if you mention that "rain and snow make you happy," you will make your bio more memorable. It will help women to distinguish your profile from thousands of others available on Tinder.
Screenshot source:https://go.tinder.com/I5DPhFx9vy4-Anthony
Romantic
If you are a very romantic man, don't hide this side of yourself. If you like to hold hands and can't imagine relationships without hugs and kisses, just state that in your bio. Women like stuff like that, so they will swipe you right.
Screenshot source:https://go.tinder.com/nYlvRFx9NjM-Michael
Sociable and laconic
The best part of the following Tinder bio example is the question, "what's yours like?" It shows that the profile's owner is open to communication. This question sounds like a call to action, which invites girls to swipe right and write a text message.
However, this bio will look more impressive if it contains more information. If it's challenging to describe yourself in a few sentences, consider writing my paper service to get assistance. It will increase your chances of crafting an excellent bio and going on the date of your dreams.
Screenshot source:https://go.tinder.com/NZr-d1x9NrU-Dan
Tinder Bio Examples final thoughts
If you like Tinder and want to go on dates more often, you should rewrite your bio. Try to make it catchy and engaging. 
But please, do not copy someone else's bio! You are unique, and you have your dreams, goals, and desires. Be yourself, utilize your creativity, and you will write a bio that will make women swipe right.
If you care about your online security and anonymity, especially on platforms like Tinder, you will need a VPN solution to count on.
Select your preferred type of use. Tinder has had several security breaches in the past, and the last thing users need is to be compromised. Additionally, Tinder doxxings and scams are on the rise. The only practical solution against them is a VPN solution with a zero logs policy and not sharing too much info that can backfire.